Sheet Pan Stuffed Burger Sliders
Sheet Pan Stuffed Burger Sliders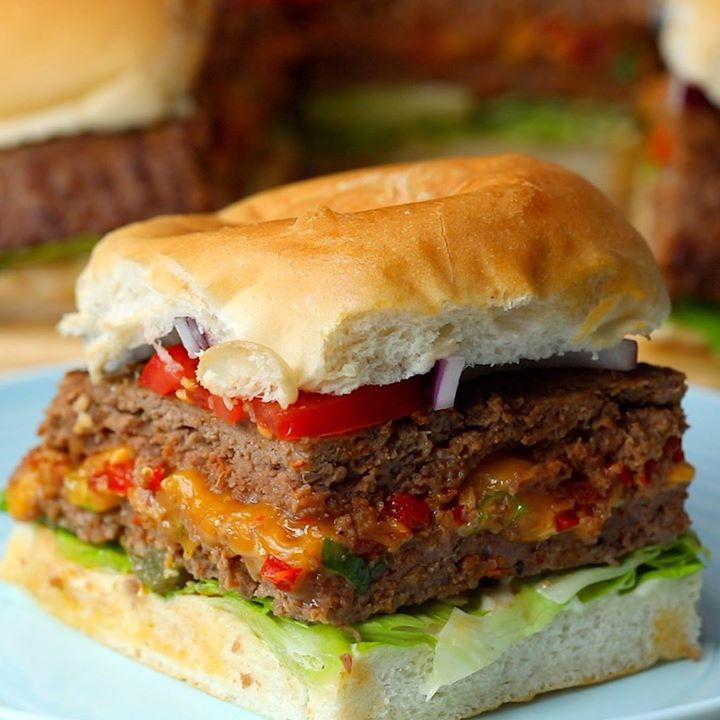 Ingredients
1.5kg beef mince
1.5 Cups cheddar
2 tbsp pickled jalapenos
¼ cup spring onions
¼ cup crispy bacon
1 cup breadcrumbs
1 tbsp black pepper
1 tbsp paprika
½ tbsp salt
½ tbsp garlic powder
1 tsp olive oil
slider buns, cut in half
lettuce, for serving (optional)
gherkins, for serving (optional)
tomatoes, sliced (optional)
red onion, sliced (optional
mayonnaise, for serving (optional)
Instructions
Add the garlic powder, paprika, salt and pepper to the beef mince and breadcrumbs and mix well. brush the tsp of oil into a small sheet pan. Put half of your beef mix onto the tray and flatten to the edges. In the centre of your mix, leaving a small border, go down with the cheese, jalapenos, spring onions and bacon.
Flatten the rest of your beef mix onto a piece of greaseproof paper, then lay over your tray. Pinch the edges of your beef together. Grill the burger for 5 minutes, on high, then flip over and do the same on the other side.
Load the bottom half of the buns with mayonnaise, lettuce and gherkins. Top with the burger then some tomatoes and onion. Place the buns on top, slice through each bun and get stuck in.
Enjoy!
Watch the recipe video here: