French Onion Chicken
Unbelievably addicting.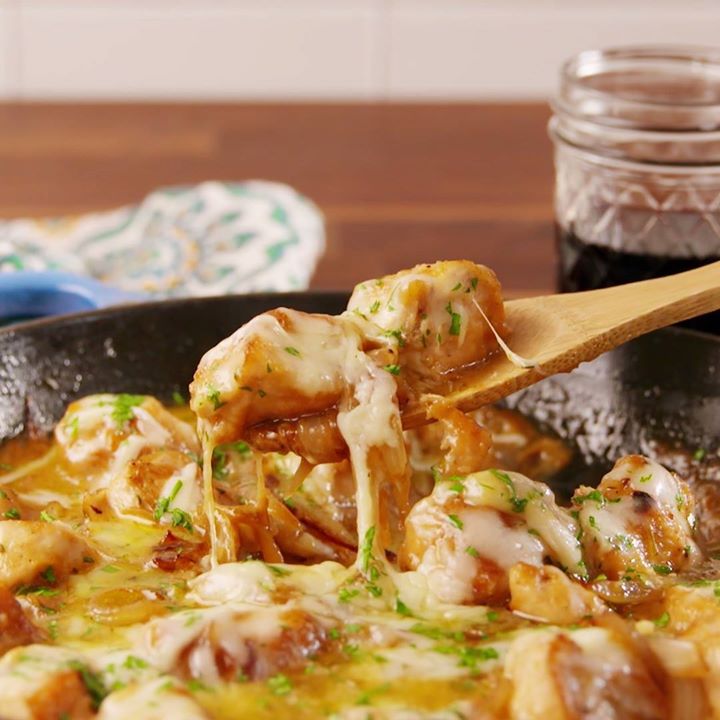 Ingredients
3 tbsp. olive oil, divided
1 large onion, sliced into half moons
2 tsp. chopped fresh thyme
kosher salt
Freshly ground black pepper
2 cloves garlic, minced
4 chicken breasts, cut into 1" pieces
½ tsp. dried oregano
2 tbsp. all-purpose flour
1½ c. low sodium beef broth
1 c. shredded Gruyère
Chopped parsley, for garnish (optional)
Instructions
In a large skillet over medium heat, heat 2 tbsp olive oil. Add onions and season with salt, pepper, and thyme. Reduce heat to medium-low and cook, stirring occasionally until onions are caramelized and jammy, about 25 minutes. Stir in garlic and cook until fragrant, about 1 minute. Turn off heat and remove onion mixture. Wipe skillet clean.
In a large bowl, season chicken with salt, pepper and oregano, then toss with flour. Heat remaining oil in the same skillet over medium high heat. Add chicken and cook until golden on all sides and mostly cooked through, about 8 minutes.
Add beef broth and return cooked onions to skillet. Bring mixture to a boil, then then educe heat and simmer until chicken is cooked through and beef broth reduces slightly, about 10 more minutes.
Add Gruyère and cover skillet with a lid. Cook until cheese is melty, about 2 minutes. Remove from heat and garnish with parsley. Serve warm.
Watch the recipe video here: