RedHot Bacon Mozzarella Stuffed Wings
You would be hard-pushed to find a sports fan (or human, for that matter) that would turn down a good, old-fashioned buffalo wing. They're just so great if they're done right, a.k.a. with copious amounts of Frank's Redhot™ lacing the sauce. The only negative? Those darned bones. Here's a game-changing recipe for the ultimate Frank's gameday wing - crispy bacon encasing a luscious chicken wing, crammed full of oozy mozzarella. Where do I sign??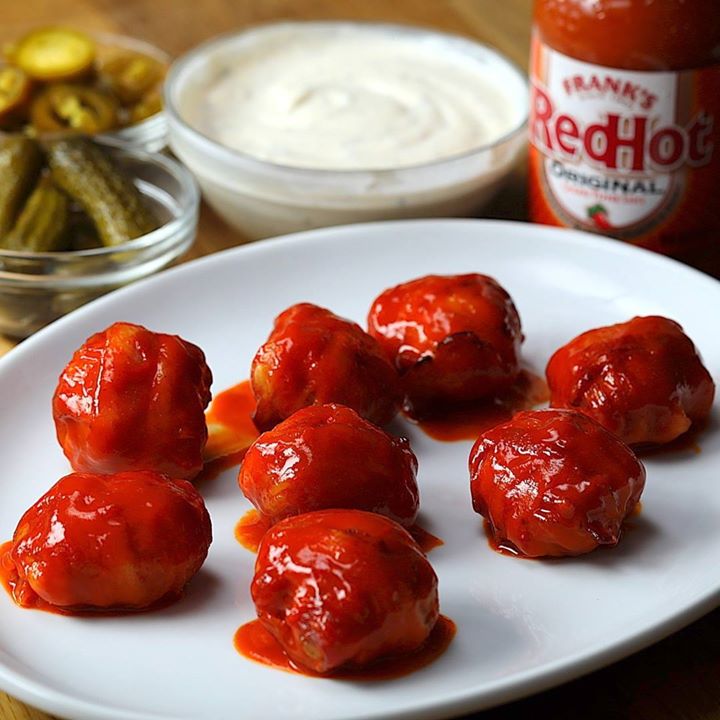 Ingredients
8 Chicken Wings (Flats only)
1 block mozzarella
8 strips smoked bacon
1 cup Franks RedHot™ Sauce
3 tbsp butter
2 tbsp honey
Instructions
Dice your mozzarella into 1" chunks, then pop in the freezer for a couple hours.
Meanwhile, prep your wings. Use a knife to loosen the skin around the end of each wing. Use scissors to cut down inside the wing (on both sides) then pull out the bone. Pop a cube of frozen cheese inside the wing.
Cut a piece of bacon in half then wrap a stuffed wing inside. Seal with a toothpick. Repeat with the others and pop on a baking dish. Roast for 20 minutes at 400°F.
Meanwhile, mix the melted butter, Franks RedHot™ sauce and honey.
Pour this over your bacon wrapped wings. Return to the oven for 5 minutes, or until bubbly.
Serve with the sauce over the top!
Enjoy!
Watch the recipe video here: