Frozen Margarita Pie
It's always happy hour with this sweet and creamy tequila-infused margarita custard pie topped with fluffy toasted meringue.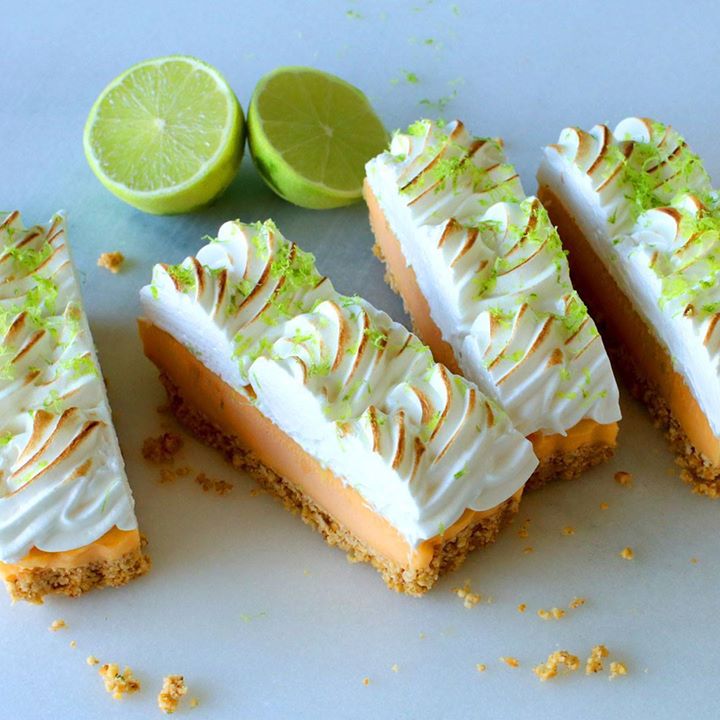 Ingredients
Margarita Filling
1 cup lime juice about 10 limes - depending on the size
2 tbsp lime zest
6 egg yolks leave aside 2 egg whites for the meringue
1 ½ tbsp cornstarch cornflour
200 g / 1 cup sugar
6 tbsp unsalted butter softened to room temperature
Pinch of salt
1 tsp vanilla
⅓ - ½ cup tequila
¾ cup half and half
Pretzel Crust
7 oz pretzels
1 tsp kosher salt
4 - 6 tbsp melted unsalted butter
Meringue Topping
2 egg whites (pasteurised)
3 oz / 85 g white sugar caster sugar is better
1 tsp vanilla extract
Instructions
Pretzel Crust
Place the pretzels and salt in a food processor. Process until they resemble bread crumbs. Add melted butter and salt. Pulse until well combined. Press these crumbs into the bottom of a long tart tin using the back of a tablespoon. Chill the crust in the freezer until completely hardened.
Margarita Filling
Place the lime, zest, egg yolks, cornstarch, sugar, butter, vanilla, tequila, half and half and salt in a large microwave safe bowl. Whisk to combine. Microwave for 5 minutes. Whisk and microwave for another 2 minutes, mixing each time until thick. Pour into the tart tin. Use a small offset spatula or tablespoon to even out before. Add fresh lime zest on top before placing in the freezer for at least 3 hours.
Meringue Topping
Place the egg whites into a large bowl and whip to soft peaks. Slowly add the sugar until it's all in there. Mix on high speed for a couple minutes then add vanilla extract. Continue mixing for another 5minutes until meringue is thick and glossy.
Fit the end of a piping bag with a large open star tip and pipe meringue onto the tart. Add fresh lime zest before slicing up and serving.
Watch the recipe video here:
When life hands you limes, make frozen margarita pie. #MargaritaDayFull Recipe: bit.ly/2CBvZ0L

Posted by Tastemade on Thursday, February 22, 2018