Stuffed Fold Over Sandwiches
Take your snacking to a whole new dimension with these fun stuffed fold over sandwiches!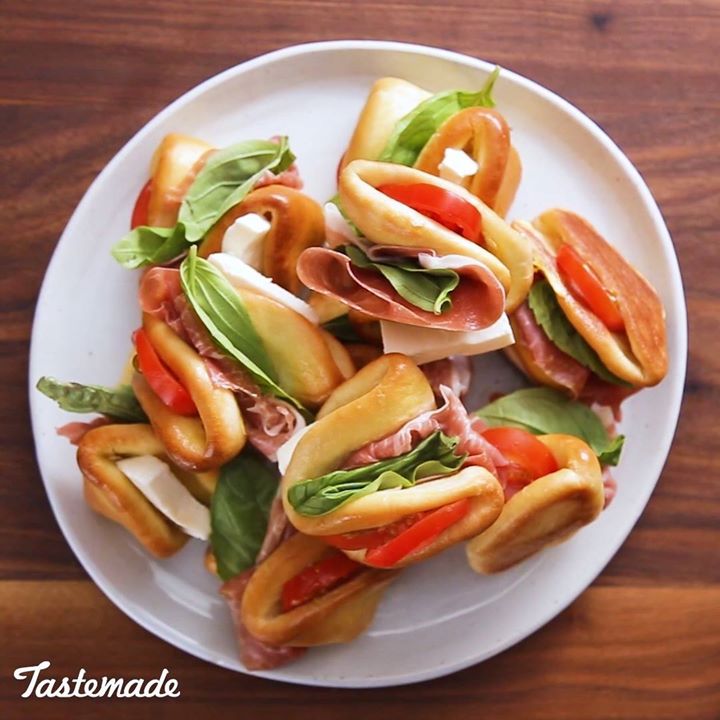 Ingredients
For the dough:
1 tablespoon active dry yeast
1½ cups water, room temperature
4 cups bread flour
4 tablespoons superfine sugar
3 tablespoons nonfat dry milk powder
1 tablespoon salt
½ teaspoon baking powder
½ teaspoon baking soda
⅓ cup vegetable shortening, room temperature
¼ cup vegetable oil, for brushing
1 egg, beaten
For the filling:
12 slices mozzarella
12 slices tomato
12 slices prosciutto, cooked and cut into 4 pieces
12 basil leaves
Olive oil, to taste
Large flake salt, to taste
Instructions
Make the dough:
In the bowl of a stand mixer fitted with a dough hook, combine yeast and and water and allow yeast to bloom, approximately 5 minutes. Add flour, sugar, milk powder, salt, baking powder, baking soda and shortening. Mix on the lowest setting for 8 to 10 minutes until the dough comes together and forms a ball. Remove, place in a well-oiled bowl and cover with a towel for up to an hour and a half or until the dough doubles in size. Once risen, punch the dough down and turn out onto a floured work surface. Divide the dough into 12 balls and cover with plastic wrap. Allow to rest for 30 minutes.
Preheat the oven to 350 degrees, and line 2 baking sheets with parchment paper. Uncover dough balls and roll into 4 by 4 circles. Brush each circle with vegetable oil and fold in half. Brush the half with vegetable oil and fold in half again, creating a triangle shape. Repeat with remaining balls, and place on lined baking sheets. Brush each triangle with egg wash, and bake for 15 to 20 minutes. Buns will be golden and spring back when touched.
Assemble the sandwiches:
Place a piece of cheese in one pocket of the bun, tomato and prosciutto in another and basil in the last. Repeat until all buns are used.
Watch the recipe video here:
We've reached the new age of sandwiches, people.Taste for Yourself: taste.md/2IQZFKW

Posted by Tastemade on Monday, April 16, 2018