Baked Potato Souffle
Cheese, potatoes , bacon, and... more cheese? What's not to love about this souffle?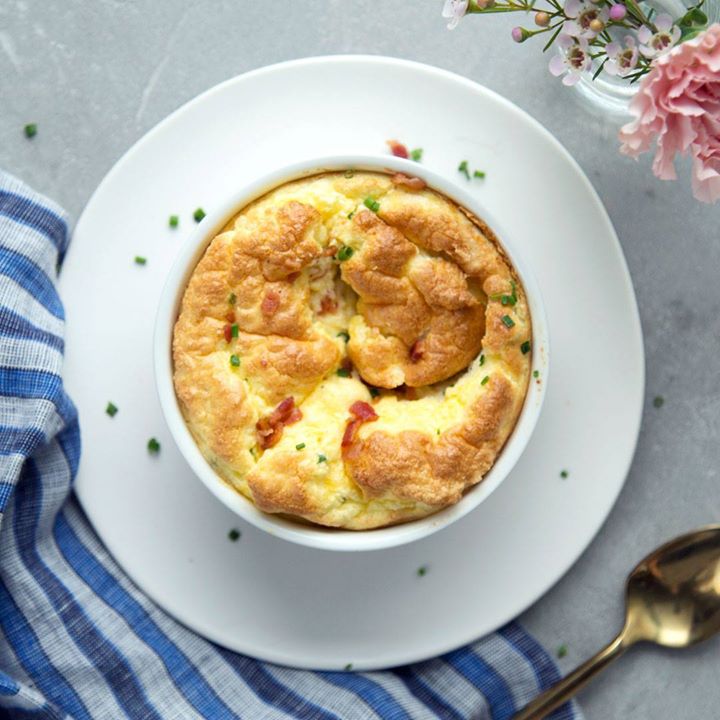 Ingredients
¼ cup Parmesan, finely grated
2 tablespoons unsalted butter
2 tablespoons all-purpose flour
1 tablespoon potato flakes, fine powder`
1 cup whole milk, hot but not boiling
6 egg whites
¼ teaspoon cream of tartar
½ cup cheddar cheese, finely grated
½ cup Gruyere cheese, finely grated
2 tablespoons sour cream
1 tablespoon chives, finely chopped, plus more for garnish
4 egg yolks
Salt and pepper, to taste
Crispy bacon, for topping
Instructions
Preheat oven to 375 degrees.
Prepare the ramekins: Brush 6 souffle ramekins with softened butter, and add 2 tablespoons grated Parmesan to each. Move the souffle dishes around to allow the Parmesan to coat the ramekin completely. Pour excess into next ramekin until all are coated.
Make the batter: Melt butter. Add flour and potato flakes and cook for a few minutes. Add warmed milk and cook for 3 more minutes. Place in a large bowl to cool.
Using a mixer, whip egg whites and cream of tartar until they form stiff peaks.
Once milk mixture has cooled, stir in cheddar cheese, Gruyere, sour cream, chives and egg yolks. Fold in egg whites one spoonful at a time.
Divide mixture among the prepared ramekins. Bake on center rack for 20 to 30 minutes until puffed up and golden brown. Serve immediately with crumbled bacon, sour cream and more chives.
Watch the recipe video here:
"It's so fluffy, I'm gonna die!"Taste for Yourself: taste.md/2HyglcY

Posted by Tastemade on Friday, April 20, 2018