Stuffed Baked Spiral Bread
This spiraling bread stuffed with meat & cheese has got us hypnotized!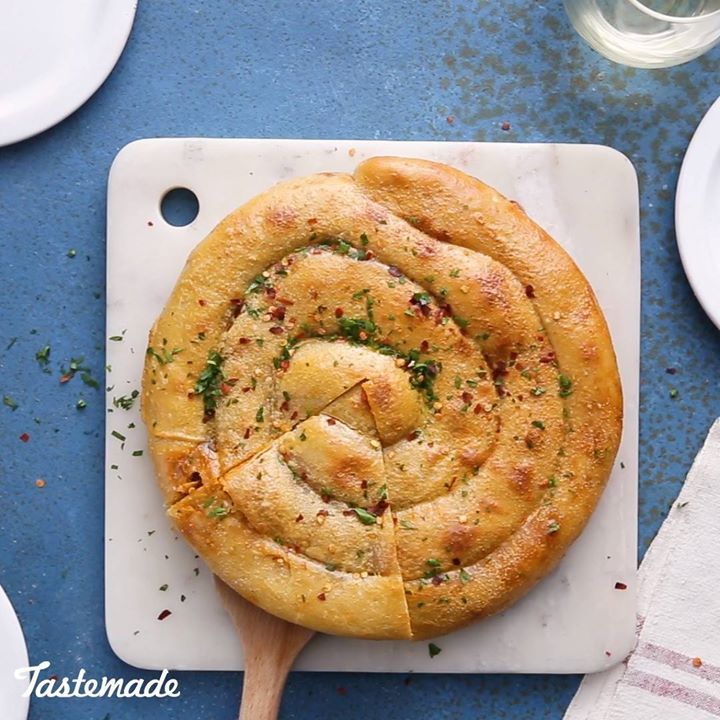 Ingredients
Meat sauce filling:
½ white onion, chopped
3 cloves garlic, chopped
½ pound ground beef
10 ounces tomato sauce
1 teaspoon fresh thyme
½ tablespoon fresh oregano
Olive oil, for cooking
For the bread:
16 ounces pizza dough
10 ounces shredded mozzarella cheese
1 egg, beaten
2 teaspoons granulated garlic
Chili flakes, for garnish
Chopped parsley, for garnish
Instructions
In a large saucepan, saute onions and garlic in olive oil until translucent and slightly browned. Add beef. Once browned, add the tomato sauce and bring to a boil. Reduce to a simmer and allow to simmer for 20 minutes. Add fresh thyme and oregano and simmer an additional 10 minutes. Remove from heat and allow to cool to room temperature.
Preheat oven to 350 degrees. Line a 12-inch cast-iron pan with parchment paper.
Roll out the pizza dough into a large rectangle. Using a pizza cutter, cut 4 strips of the dough lengthwise.
Once the sauce is cooled, place the cheese topped with meat sauce filling along the top of the dough strips. Pinch both sides of the dough together to form a tube. Shape the tubes into a spiral inside the cast-iron, starting from the outside and working your way in towards the center. Brush spiraled dough with beaten egg. Sprinkle the top of the bread with granulated garlic and bake for 30 minutes or until golden brown. Garnish with chili flakes and parsley before serving.
Watch the recipe video here:
When food makes you do a double take….Taste for Yourself: taste.md/2Hf3eNW

Posted by Tastemade on Thursday, April 12, 2018