Loaded Cauliflower Bites
Cauliflower is totally the new potato.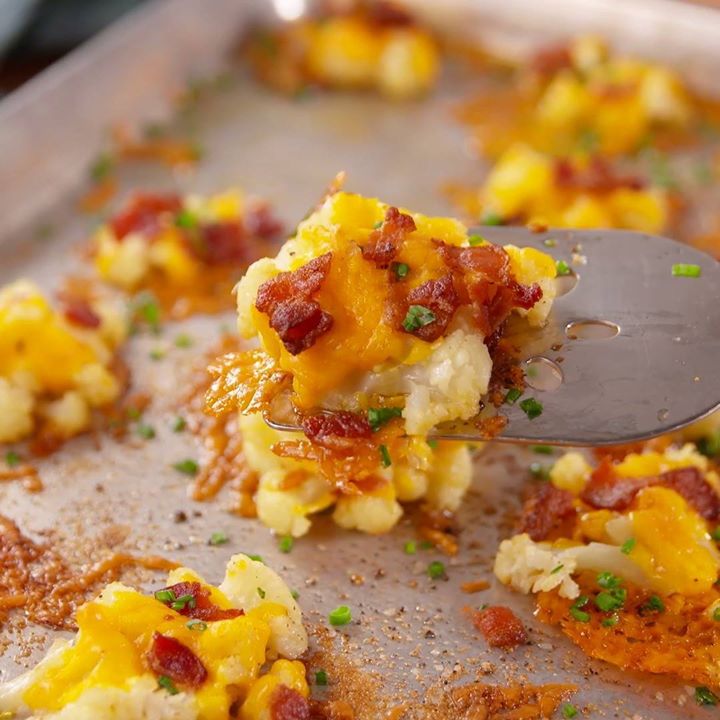 Ingredients
Nonstick cooking spray, for pan
1 large head of cauliflower, cut into florets (about 3 cups)
2 tbsp. extra-virgin olive oil
kosher salt
Freshly ground black pepper
1 tsp. garlic powder
1 c. shredded Cheddar cheese
5 slices bacon, cooked and crumbled
1 tbsp. finely chopped chives
Instructions
Preheat oven to 425° and grease a large baking sheet with cooking spray.
In a large pot of salted boiling water, cook cauliflower until fork tender, about 5 minutes, then drain and pat dry.
Spread florets out in a single layer on the prepared baking sheet and toss with olive oil, salt, pepper, and garlic powder. Using a potato masher, or the bottom of a small glass, lightly smash the cauliflower florets.
Top each smashed cauliflower floret with a pinch of cheddar cheese and some bacon, then bake until cheese is melted and crispy around the edges, about 15 minutes.
Sprinkle chives over cauliflower and serve warm or at room temperature.
Watch the recipe video here: