Salsa Verde Queso
You can never have enough queso recipes.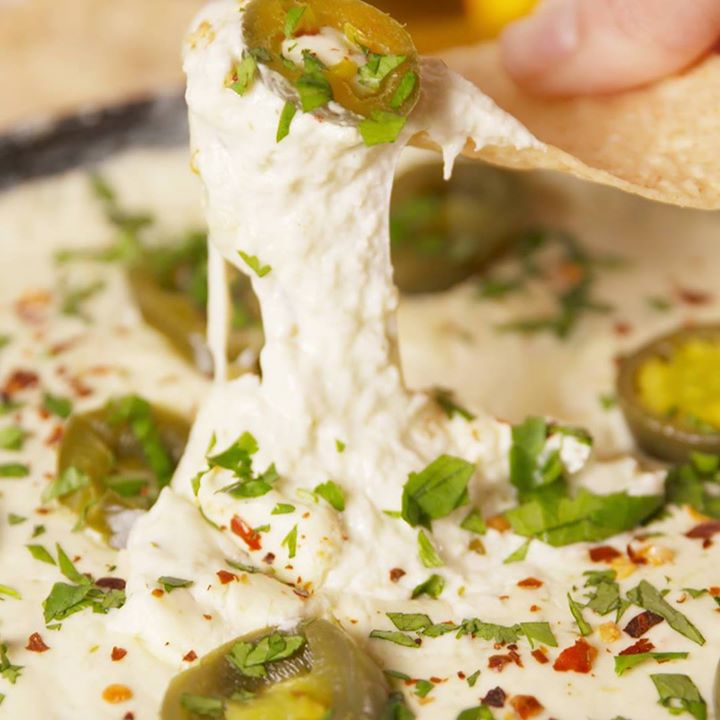 Ingredients
1 tbsp. olive oil
2 cloves garlic, minced
1 c. salsa verde
1 (8-oz.) block cream cheese, softened
1 c. Shredded Monterey Jack
1 c. shredded mozzarella
⅓ c. sour cream
2 tbsp. lime juice
1 tbsp. chopped cilantro, plus more for garnish
kosher salt
Freshly ground black pepper
¼ tsp. red pepper flakes (optional)
Pickled jalapeños, for garish
Tortilla chips, for serving
Instructions
In a small skillet (or small saucepan) over medium heat, heat olive oil. Add garlic and cook until fragrant, about 1 minute. Pour in salsa verde and bring mixture to a simmer.
Add cream cheese, breaking up block with a wooden spoon, and cook until melted. Add Monterey jack, mozzarella, sour cream, lime juice, and cilantro. Season with salt and pepper and cook until cheeses have melted, about 5 minutes.
Remove from heat and sprinkle with red pepper flakes, if using. Garnish with more chopped cilantro and pickled jalapeños. Serve warm with tortilla chips, for dipping.
Watch the recipe video here:
This NEEDS to be at every Super Bowl party.Full recipe: http://dlsh.it/W7V5lzw

Posted by Delish on Monday, January 22, 2018