Spinach & Artichoke Dip Stuffed Meatloaf
Spinach & artichoke dip is always a hit at the table. We've stuffed meatloaf with this glorious dip so it's a one pan meal! Serve with a side salad and some chips to dip!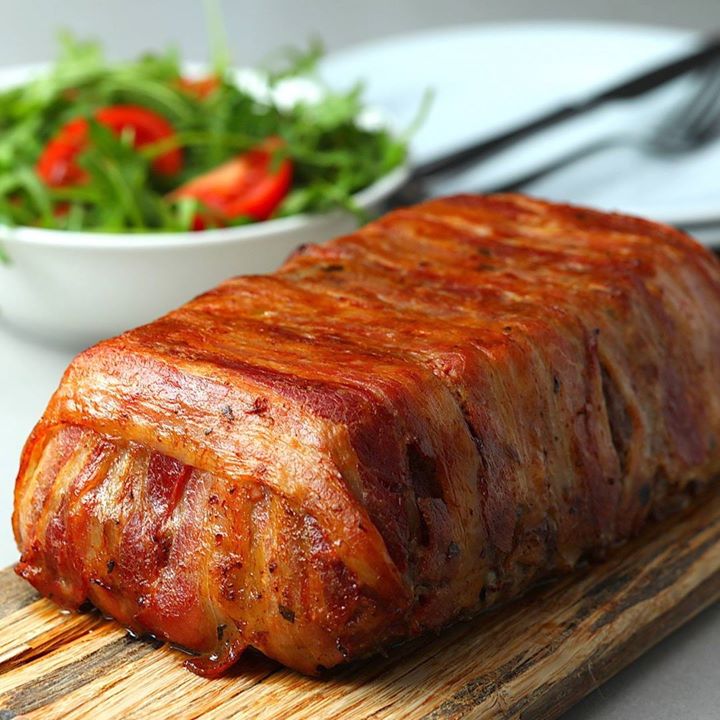 Ingredients
1lb beef mince
⅔ cup breadcrumbs
2 eggs
1 tsp salt
1 tsp pepper
Bacon Strips
⅓ cup sour cream
⅓ cup mayonnaise
½ cup cream cheese, softened
⅔ cup frozen spinach, drained
⅔ cup canned artichoke, chopped
2 cloves garlic, minced
1 tsp salt
1 tsp pepper
Instructions
In a large bowl mix together mix mince with bread crumbs, eggs,1 tsp salt and 1 tsp pepper until well combined.
Lay bacon across the bottom of a loaf tin lined with parchment paper being sure for it to come up the sides.
Press ¾ of mix into a loaf tin along the bottom and press up the edges keeping a well in the middle.
In another bowl, mix together sour cream, mayonnaise, cream cheese, spinach, artichoke, garlic, 1 tsp salt and, 1 tsp pepper until smooth. Add this mixture into the well and smooth.
Flatten remaining meat out to the size of the loaf tin. Place on top of the mixture being sure to seal the edges well.
Bake in a 180ºF oven for 30-40 minutes. Flip out of tin and grill for 5-10 minutes until the bacon is golden and crispy.
Enjoy!
Watch the recipe video here: