Garlic Bread Chips With Bacon Cheese Dip
Bacon, cheese, and garlic bread? Count us in! This warm bacon cheese dip takes just minutes to put together and it's a sure hit with these garlic bread dippers. Using soft white bread and rolling it out flat they bake up and get super crispy just like crackers!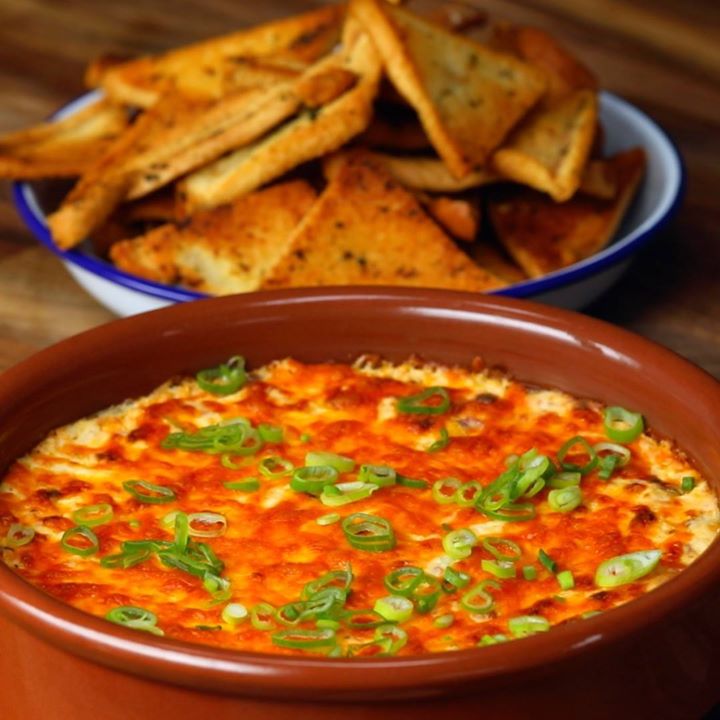 Ingredients
1 loaf soft white bread
¾ cup melted garlic butter
1¾ cup sour cream
1 cup cream cheese, softened
21/2 cups shredded cheddar cheese, split
1 cup cooked bacon bits
¼ cup chopped spring onions
½ tsp salt
½ tsp pepper
Instructions
Preheat oven to 180ºC (350ºF).
Roll slices of bread flat. Brush with garlic butter on both sides. Cut into four triangles, corner to corner.
Place flat on a baking sheet and bake for 20 minutes flipping half way through until golden brown and crisp.
In a large bowl, mix together sour cream, cream cheese, 2 cups cheddar cheese, bacon, spring onions, salt and pepper. Transfer to a baking dish, sprinkle with remaining cheese and cover with foil. Bake for 20 minutes then remove foil and frill for 5 minutes.
Dip garlic bread and enjoy!
Watch the recipe video here: