Hot Roast Chicken Gravy Buns
Hot Roast Chicken Gravy Buns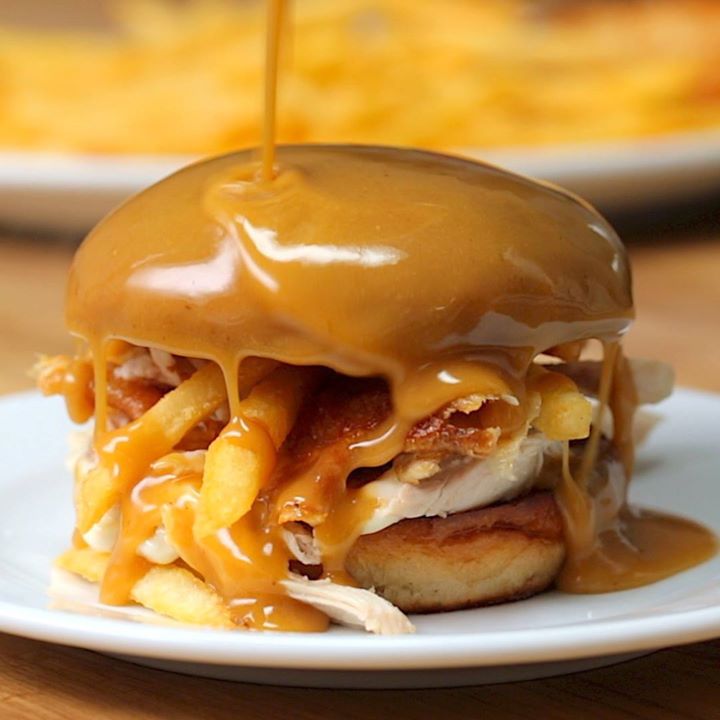 Ingredients
1 small chicken
½ lemon
½ bulb garlic
1½ tsps salt
1 cup mayonnaise
toasted buns, to serve
1 cup chicken stock
fries, to serve
1 glass white wine
1 tbsp french mustard
1 hpd tsp plain flour
Instructions
Bring your chicken up to room temp. Dry your chicken. Salt your chicken. Stuff with garlic and lemon. Roast at 220°C for 1 hour, turning over twice during the cook.
Remove your garlic and lemon. Remove your chicken, shred and keep warm.
Put your roasting tray over a medium heat. Add flour and cook out. Deglaze with wine, then add stock and mustard. Simmer for 5 minutes (or until rich and thick) then strain.
Toast your bun. Mix mayonnaise with the mashed, roasted garlic and the roasted lemon.
Pop a bit of the garlicky mayo on the bun. Top with roasted chicken and a few cooked fries. Put the top half of the bun on. Pour the gravy over the bun.
Dig in.
Watch the recipe video here:
Hot Roast Chicken Gravy Buns

Posted by Twisted on Wednesday, August 23, 2017