Crazy Brownies
The secret to these Crazy Brownies is... cake mix!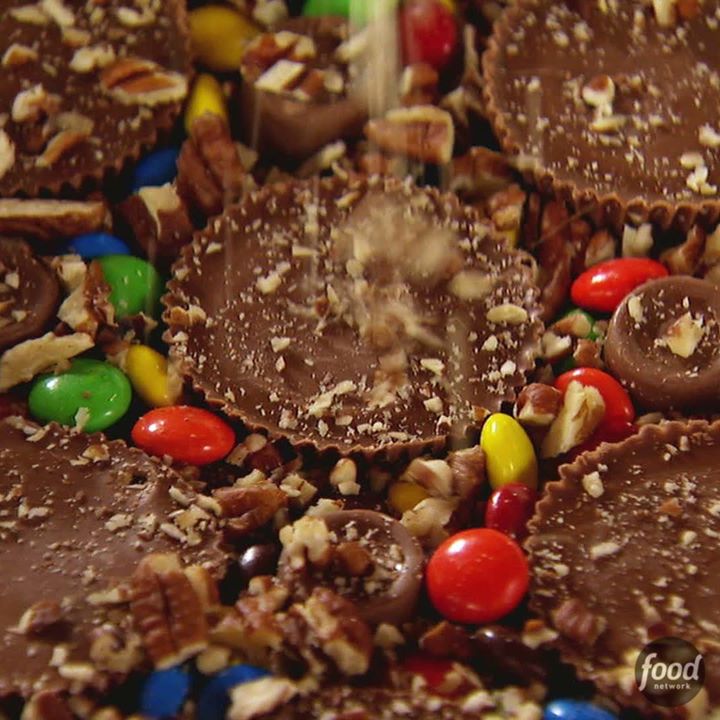 Ingredients
1 stick (8 tablespoons) butter, melted, plus more for greasing pan
1 box chocolate cake mix (18 ounces)
⅓ cup evaporated milk
9 peanut butter cups
12 chocolate-covered caramels, such as Rolos
½ cup finely chopped pecans
⅓ cup candy-coated chocolates, such as M and Ms
¼ teaspoon salt
Powdered sugar, for sprinkling
Instructions
Preheat the oven to 350 degrees F. Grease an 8-by-8-inch baking pan.
Put the dry cake mix in a large bowl and stir in the evaporated milk. (The mixture will still be dry.) Next, pour in the melted butter, stirring gently until the mix just comes together (don't over-mix).
Divide the mixture in half and press half of it in the bottom of the prepared pan. Lay the peanut butter cups over the top. Peel the caramels and place them in the spaces between. Sprinkle the nuts into the cracks, followed by the chocolate candies. Finally, sprinkle the salt all over. Put the other half of the batter on a cutting board and press it into a square a little smaller than the pan (it will be very sticky). Transfer it to the pan and lightly press it to cover all the ingredients.
Bake until the batter is fully baked, 22 to 25 minutes. Allow to cool completely, then place the pan in the fridge, covered in foil, for a couple of hours.
Remove the brownies from the pan in one piece, then sprinkle on plenty of powdered sugar. With a sharp serrated knife, cut into small squares.
Gobble 'em up!
Watch the recipe video here: