Raspberry Cheesecake Swirl Buns
Glazed Raspberry Cheesecake Swirl Buns.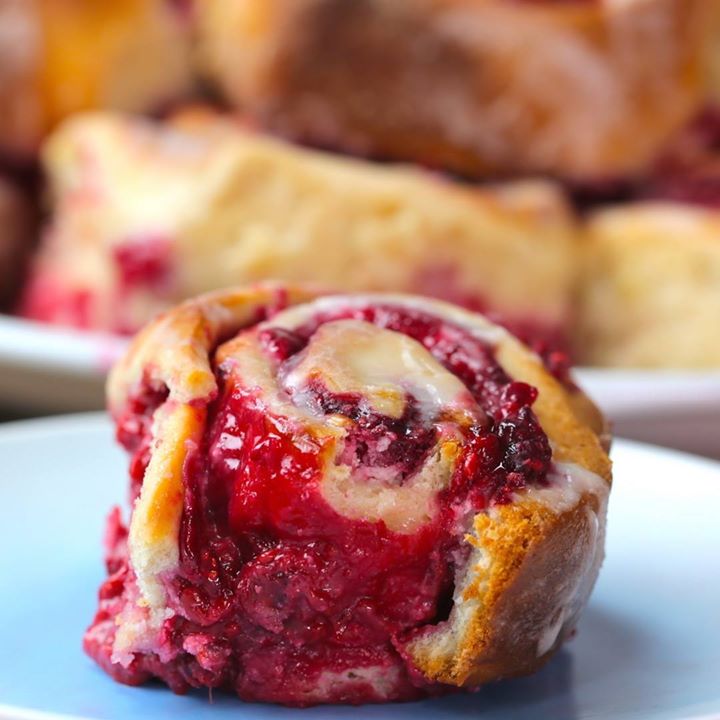 Ingredients
Dough:
1 cup (240ml) milk, warmed
½ cup (135g) granulated sugar
2 tablespoons active dry yeast (2 standard size packets)
½ cup (115g) unsalted butter, softened to room temperature and cut into 4 pieces
2 large eggs
½ teaspoon salt
4 and ½ cups (562g) all-purpose flour, plus more for dusting/rolling
Filling:
8 oz Cream Cheese softened
¼ Cup Butter softened
½ Cup Sugar
2 packages frozen raspberries
2 tbsp cornstarch
Glaze:
1 cup icing sugar
¼ cup cream
Instructions
In a large bowl, add warm milk, sugar, and yeast. Let it sit for about 5 minutes until frothy
Add softened butter, salt, eggs, and flour to the bowl and mix well.
Place dough into an oiled bowl, cover and let rise in a warm place about 1 hour or until the dough has doubled in size.
Roll the dough out on a lightly floured surface, until it is approx 16 inches long by 12 inches wide. It should be approx ¼ inch thick
Filling:
In a bowl mix cream cheese, butter, sugar, and vanilla with a hand mixer until smooth.
Keep raspberries frozen until needed. Mix raspberries with sugar and corns starch until coated
Assembly:
Preheat oven to 200C (400F).
Butter/grease/spray with nonstick spray the bottom of a 9×13 inch baking dish, then line with parchment paper. Turn the dough out onto a lightly floured work surface and roll into a 12×18 inch even rectangle.
Spread cream cheese mixture evenly over dough.
Mix raspberries with cornstarch and spread evenly over mixture. Tightly roll dough into a long log. Cut into 12 even rolls. Arrange in prepared baking dish.
Cover and let rise for about 30 minutes. Bake in oven for 25-35 minutes until golden brown and bubbly. Remove and let cool.
In a bowl or jug mix together icing sugar and cream until smooth. Top rolls while still warm.
Enjoy!
Watch the recipe video here:
Glazed Raspberry Cheesecake Swirl Buns

Posted by Twisted on Tuesday, August 22, 2017