Giant Samoa Brownie Bake
Resistance is futile, don't even try.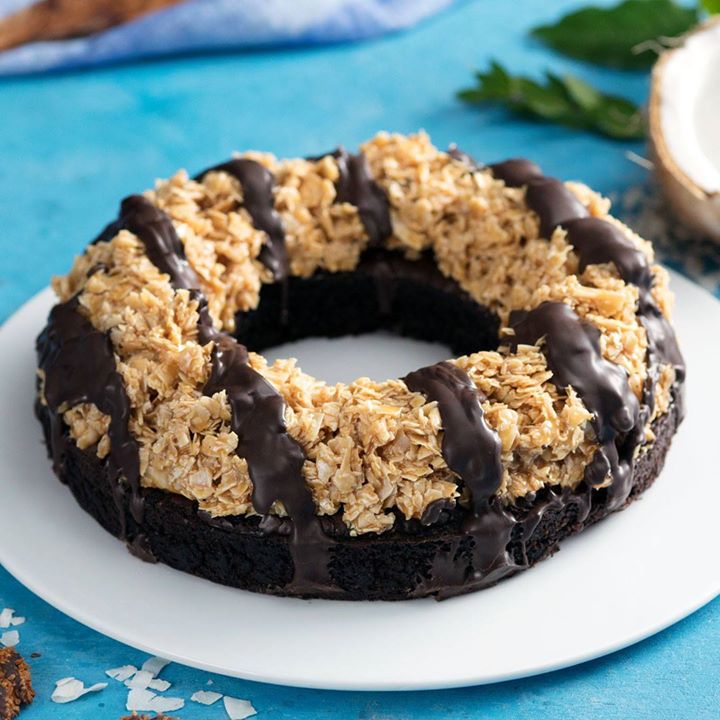 Ingredients
1 box dark chocolate brownie mix
8 Samoas
4 cups large flake shredded unsweetened coconut
3 cups caramel sauce
1½ cups dark chocolate chips, melted
Instructions
Preheat oven to 350 degrees. Butter a 10½-inch tube cake pan and set aside.
Prepare the brownie mix according to package directions, and pour into the prepared tube pan. Top with Samoas gently pressed into the surface. Bake for 35 to 40 minutes. Allow to cool completely before unmolding.
In a large bowl, mix the shredded coconut and caramel until well combined.
Place the brownie base on a parchment-lined sheet tray. Place a jar or cup in the center of the brownies. Spread the caramel coconut over the surface of the brownies, mimicking the look of a Samoa cookie. Place the coconut-topped brownie in the refrigerator for 30 minutes.
Remove the pan from the fridge and remove the center jar. Drizzle with four wide lines of dark chocolate, like a Samoa, then allow to fully set at room temperature before serving, about 20 minutes.
Watch the recipe video here:
Resistance is futile, don't even try.Full Recipe: taste.md/2tiAL3Y

Posted by Tastemade on Tuesday, March 6, 2018