Bacon Wrapped Stuffed Zucchini
Creamy, salty and delicious.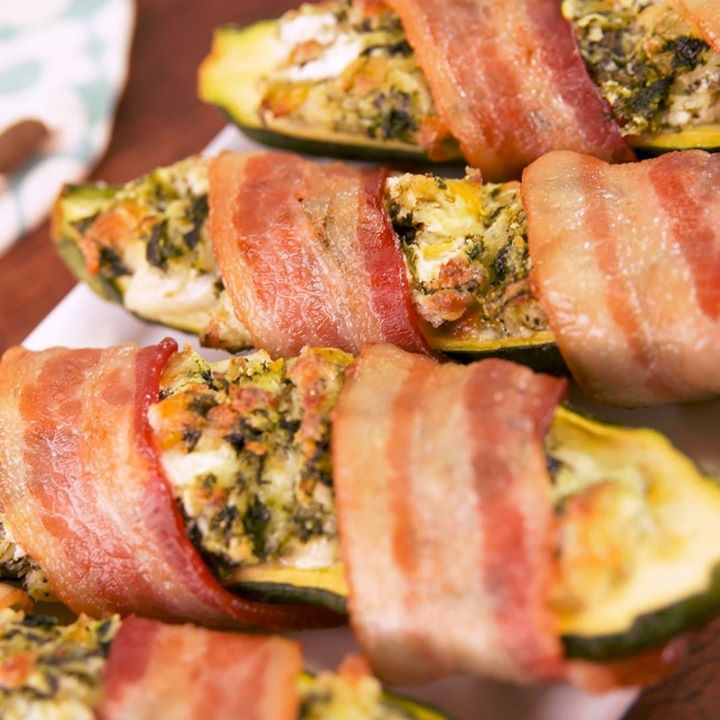 Ingredients
3 medium zucchini, halved lengthwise
8 oz. cream cheese, softened
½ c. finely chopped artichoke hearts
½ c. frozen spinach, defrosted, drained, and chopped
1 c. shredded mozzarella
½ c. freshly grated Parmesan
1 Garlic clove, minced
½ tsp. red pepper flakes, plus more for garnish
kosher salt
Freshly ground black pepper
12 slices bacon
Instructions
Preheat oven to 350°. Line a baking sheet with parchment paper and fit with a cooling rack. Using a spoon, remove the seedy centers of each zucchini.
In a large bowl, combine cream cheese, artichoke hearts, spinach, mozzarella, parmesan, garlic and red pepper flakes. Season with salt and pepper and stir to combine.
Scoop cream cheese mixture into zucchini boats, then wrap each boat with 2 slices bacon. Place on prepared cooling rack and place in oven to bake, 35 to 40 minutes, or until zucchini is tender and bacon is crisp. Let cool slightly and serve.
Watch the recipe video here: