Chicken Fried Steak Bowl
This shortcut lets you make a roux in the same pan as your chicken fried steak. Game. Changed.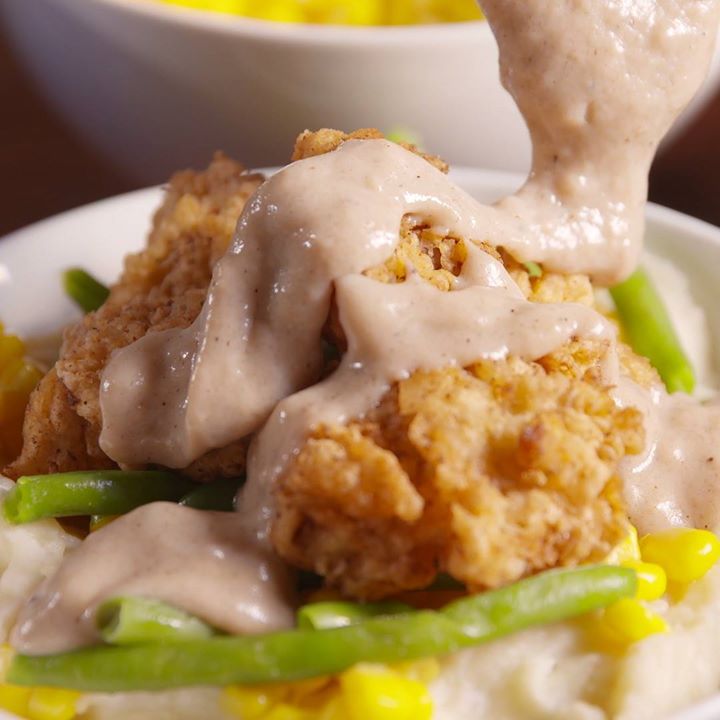 Ingredients
CHICKEN FRIED STEAK BITES
1½ lb. cube steak
3 Eggs, beaten
1 c. flour
1 tsp. salt
1 tsp. Black pepper
1 tsp. cayenne pepper
2 tsp. garlic powder
vegetable oil (enough to fill pan 1")
GRAVY
¼ c. reserved vegetable oil
¼ c. flour
½ tsp. salt
1 tsp. Pepper
1½ c. milk
CHICKEN FRIED STEAK BOWL MIX-INS
3 c. Mashed potatoes
1 package green beans, steamed (12 oz)
1 can corn (15.25 oz)
Instructions
Make the chicken fried steak bites:
Cut steak into bite-sized pieces. Set aside.
Set up a dredging station:
Place beaten eggs in a shallow bowl next to the oven. In a second shallow bowl, combine flour, salt, pepper, cayenne and garlic powder.
Place a skillet on the oven over medium-high heat. Add about 1" of vegetable oil, giving it a few minutes to warm up (the oil will start to shimmer slightly once it's ready for frying).
Using tongs, dip pieces of steak into the flour mixture, then the eggs, then back into the flour. Place the pieces, one by one, into the oil, frying them until golden brown (about 2 minutes). Place them on a plate lined with paper towels to drain off any excess grease.
Make the gravy:
Drain most of the oil from the skillet, reserving ¼ c to make the gravy. Reduce heat to medium, and slowly whisk in flour, one tablespoon at a time, until you've formed a light brown roux. Season with salt and pepper, then whisk in milk. Let it simmer until thick enough to coat the back of a spoon. Remove from heat.
Prepare mashed potatoes and warm green beans and corn. Layer mashed potatoes, green beans, corn and chicken fried steak bites into bowls, then drizzle with gravy and serve.
Watch the recipe video here: