Kiwi Yogurt Mousse Stripe Cake
Go fancy for dessert with this light and fluffy striped matcha sponge cake filled with a refreshingly sweet yogurt mousse.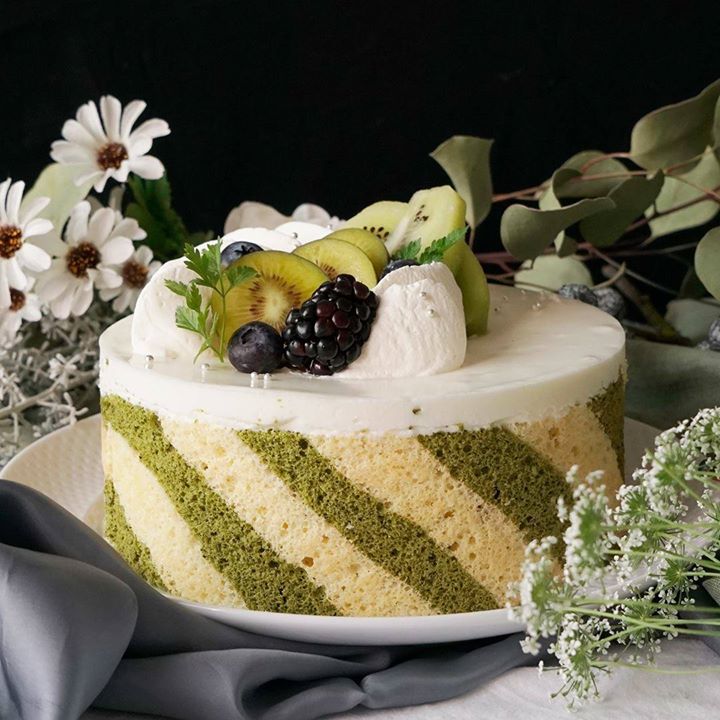 Ingredients
Sponge cake batter:
4 eggs, divided
¾ cup granulated sugar, divided
1 cup flour, divided
½ tablespoon matcha powder
Powdered sugar
Yogurt mousse:
1½ cups yogurt
½ cup granulated sugar
1 cup heavy cream
1 tablespoon dry gelatin powder
2 tablespoons water
To decorate:
2 kiwis
Blueberries and blackberries
French parsley
Instructions
Preheat oven to 350 degrees.
Peel the kiwis. Slice one kiwi into ¼-inch round pieces. Cut the other kiwi into wedges. Sprinkle the gelatin powder over the water and set it aside.
In a mixing bowl, add the egg yolks and ¼ cup of sugar. Mix until combined.
Place remaining sugar in a separate bowl and slowly add the egg whites, whipping until soft peaks form. Fold the egg yolk mixture into the egg white mixture. Stir in the flour, then divide batter in half. To one half, add the matcha powder and stir to combine. Transfer the two batters to separate pastry bags.
Prepare a baking sheet with parchment paper. Pipe the white batter diagonally across the parchment, leaving space between each strip for the green batter. Sprinkle with powdered sugar. Bake for 12 minutes, then allow to cool before removing the parchment paper.
Using a small cake ring, cut out a small round piece from the cake, then cut out a 1½-inch-wide strip of the rest of the cake.
Add the strip to the inner part of the cake ring, and lay the round piece of sponge cake in the bottom.
For the mousse, add the sugar and yogurt to a heatproof bowl. Place in the microwave for 30 seconds, then stir in the gelatin. Whip the heavy cream for 8 minutes to heavy peaks. Fold into the yogurt mixture. Pour half of the mousse into the sponge cake mold. Layer the kiwi slices in a circle across the top, then pour in the remaining mousse. Place in the refrigerator to set.
Remove cake from mold and decorate with more whipped cream, kiwis, berries and parsley.
Watch the recipe video here: