Campfire Cake
Don't bother with the bug spray, tonight we're camping in the kitchen!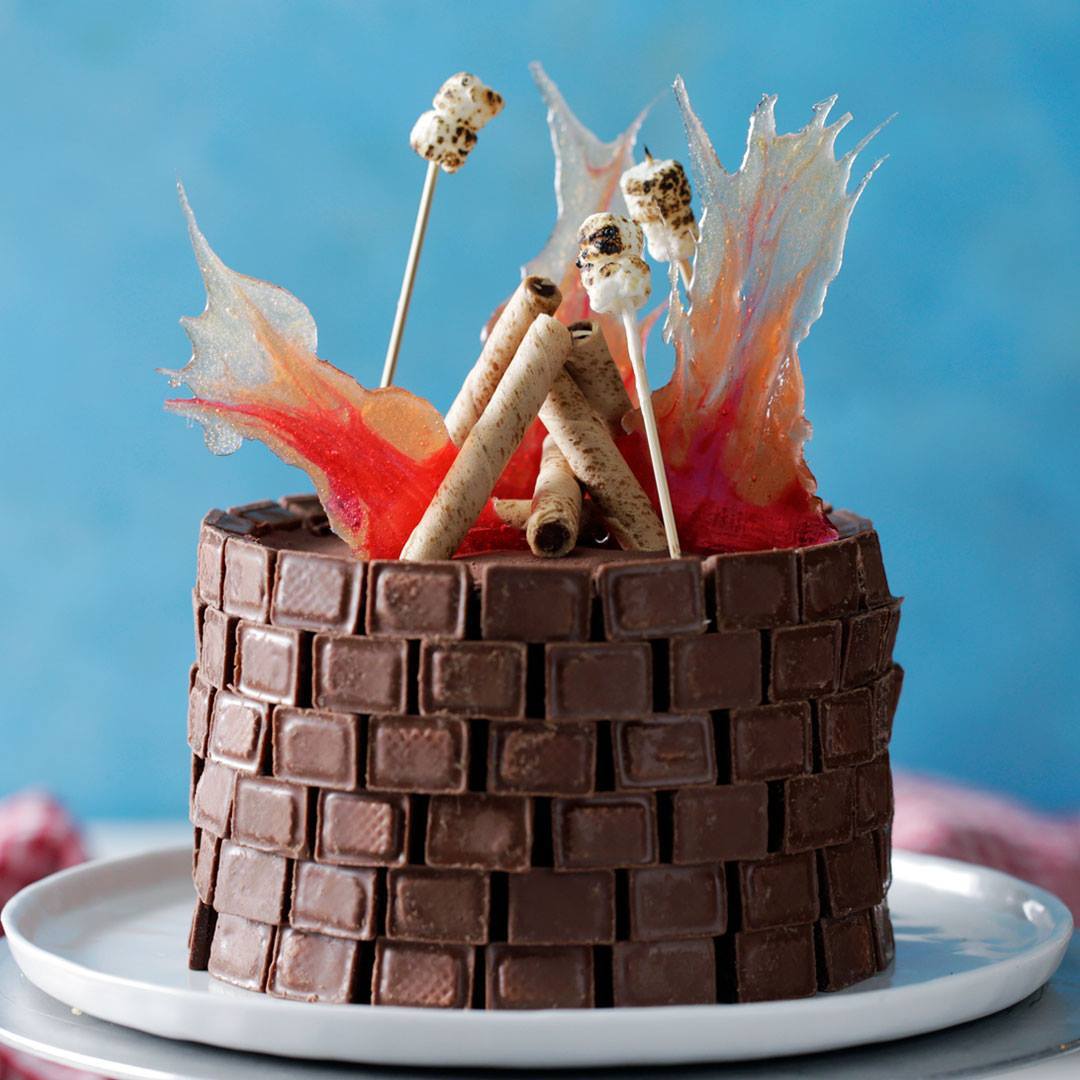 Ingredients
For the chocolate cake:
1½ cups all-purpose flour
1 cup sugar
1 teaspoon baking powder
½ teaspoon baking soda
1 teaspoon salt
⅓ cup cocoa powder
¾ cup butter, softened at room temperature
2 large eggs
2 teaspoons vanilla extract
¾ cup sour cream, room temperature
For the assembly:
30 red, yellow and orange hard candies
3 cups chocolate ganache
1 cup ground graham crackers
1 cup marshmallow fluff
100 mini Kit Kats
7 Pirouettes, for decorating
8 small marshmallows, for decorating
Instructions
Make the chocolate cake:
Preheat the oven to 350 degrees. Line two 6-inch cake pans with baking spray and parchment paper.
In a large bowl, combine the flour, sugar, baking powder, baking soda, salt and cocoa. Using a hand mixer, blend the butter, eggs and vanilla into the dry mix. Fold in the sour cream. Pour the batter into the pans and bake for 25 to 30 minutes until a toothpick comes out clean. Set aside to cool completely.
Make the candy flames:
Preheat the oven to 375 degrees, and line a baking sheet with a silicone baking mat. Place red, yellow and orange candies each in a separate plastic bag. Crush each candy bag into small pieces. Assemble small piles of the candies to resemble flames, and place in the oven for 3 to 4 minutes until the candy melts. Using a toothpick and working quickly, pull the candies upwards to resemble flames. Set aside to cool.
Assemble the cake:
Cut each of the chocolate cakes in half lengthwise, removing the domed tops. Place one layer on a cake stand or platter and pipe a border of chocolate ganache around the outside edge of the cake. Place ½ cup of marshmallow fluff on the inside and sprinkle with ¼ cup graham cracker crumbs. Repeat this until all cake layers are used.
Cover the cake completely with one cup of ganache, and begin to build the fire pit of candy bars. Stack Kit Kats around the sides of the cake with the cut side out. Top the layer of bars with ganache, and repeat until the top of the cake is reached. Fill the center of the pit with Pirouettes and melted candies to create a fire scene. Skewer marshmallows and place around the top of the cake. Cake will keep up to 4 days covered.
Watch the recipe video here:
Don't bother with the bug spray, tonight we're camping in the kitchen!Taste for Yourself: taste.md/2lAkXmm

Posted by Tastemade on Monday, July 2, 2018