Oreo Jell-O Shots
A little bit dessert, a little bit party time.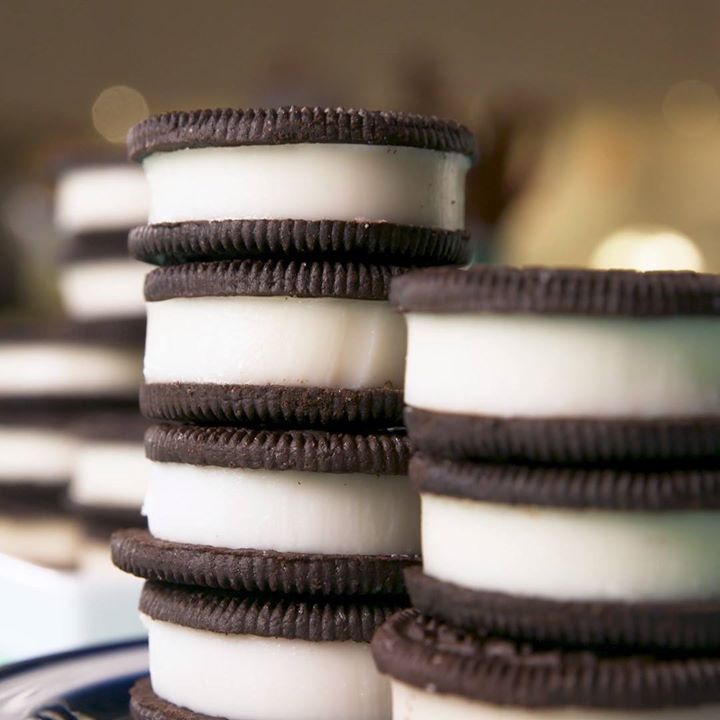 Ingredients
1 c. vodka
2 envelopes gelatin
1 c. boiling water
1 (14-oz.) can sweetened condensed milk
1 package Oreos
Instructions
In a large bowl or measuring cup, combine vodka and gelatin and let sit 2 minutes. Add water and stir until gelatin dissolves completely. Pour in sweetened condensed milk and whisk to combine.
Spray a small sheet pan with nonstick cooking spray and pour mixture into pan. Refrigerate until firm up, 4 to 5 hours.
Meanwhile, remove cream from Oreos using a butter knife. When gelatin mixture is firm, using a small biscuit cutter or shot glass, cut gelatin mixture into rounds. Place 1 round between two Oreo cookies and repeat until all gelatin rounds are used.
Watch the recipe video here:
Oreo Jell-O Shots = the most dangerous snack we've ever made.Full recipe: http://dlsh.it/mx03d9H

Posted by Delish on Wednesday, April 11, 2018