Confetti Cookie Dough Ball
This is the only ball you need to see drop on New Year's Eve.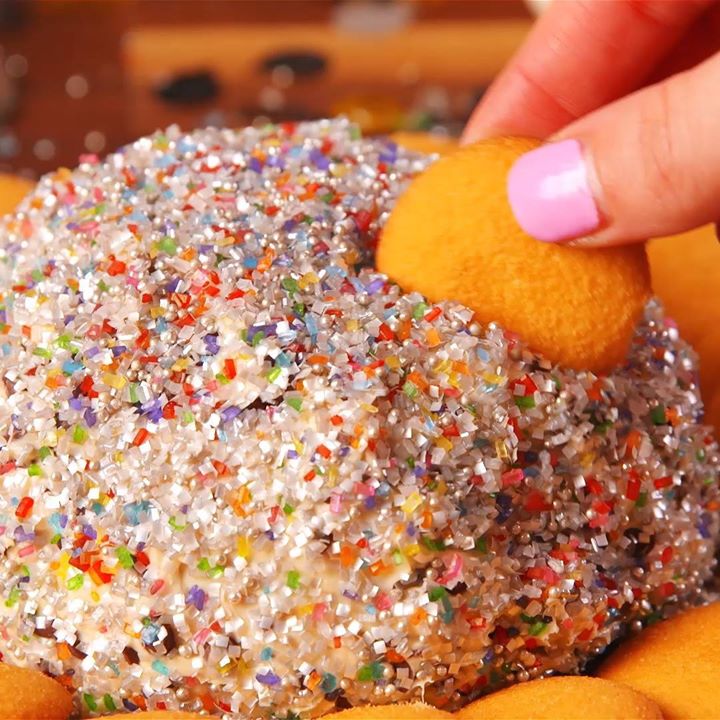 Ingredients
12 oz. cream cheese, softened
¼ c. butter, softened
¾ c. brown sugar
½ tsp. vanilla
1 c. mini chocolate chips
Assorted rainbow and silver sprinkles, for decorating ball
NILLA Wafers or pretzels for serving
Instructions
In a large bowl using a hand mixer, beat cream cheese and butter. Add brown sugar and vanilla. Fold in mini chocolate chips.
Place a sheet of plastic wrap on a work surface and scrape cookie dough mixture on top. Using your hands, form mixture into a ball. Cover with plastic and refrigerate until firm, 3 hours. (After 2 hours, better shape mixture into a ball once it's semi firm.)
In a small bowl, mix together rainbow and silver sprinkles.
Transfer ball to a serving platter and sprinkle all over with mixture, making sure to coat the sides. (If your ball is firm enough to roll, try that.)
Serve with Nilla Wafers or pretzels.
Watch the recipe video here: