Chocolate-Dipped Ice Cream Tacos
Chocolate-Dipped Ice Cream Tacos recipe.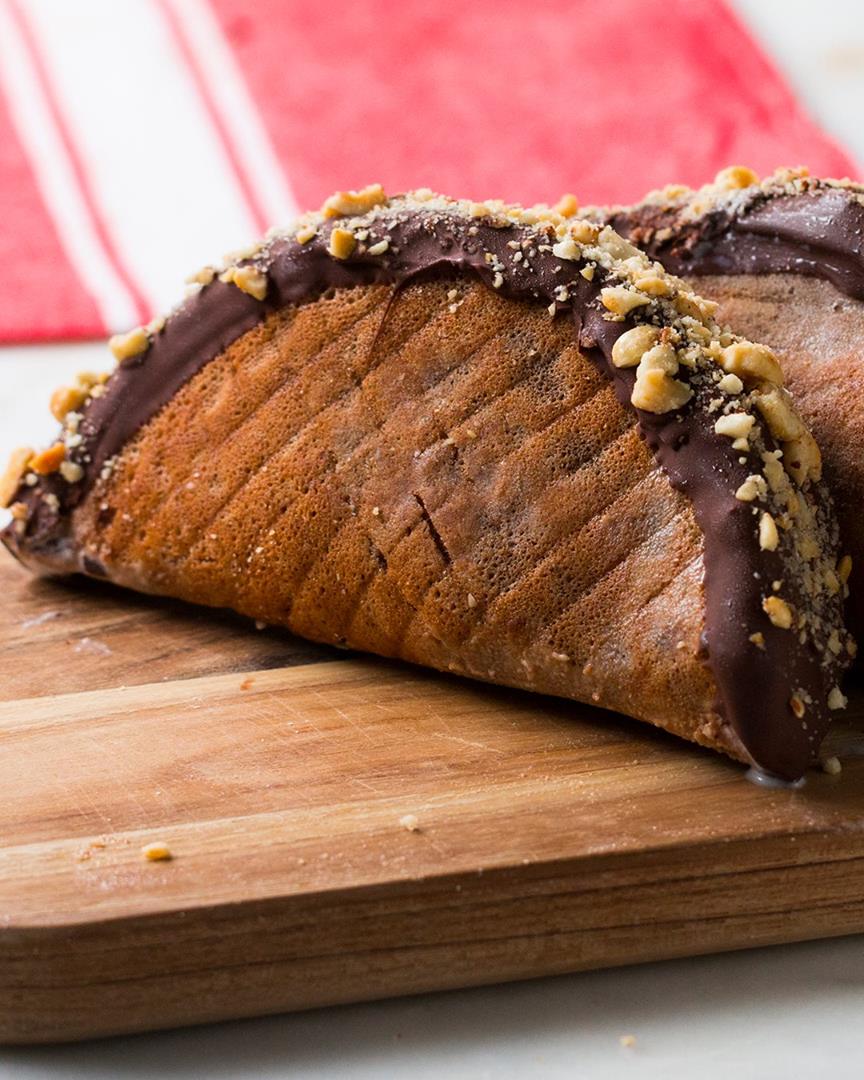 Ingredients
TACO SHELLS
2 large eggs
½ cup sugar (100 g)
¼ cup milk (60 mL)
1 teaspoon vanilla extract
¼ cup unsalted butter, ¼ stick, melted (55 g)
½ cup all purpose flour (60 g)
1 tablespoon cocoa powder
MAGIC SHELL
18 oz good-quality chocolate, finely chopped (510 g)
¼ cup coconut oil, melted (60 mL)
ASSEMBLY
4 cups vanilla ice cream, softened (575 g)
1 cup salted peanut, crushed (125 g)
Instructions
Make the taco shells: in a medium bowl, whisk together the eggs and sugar until combined.
Add the milk, vanilla, and butter, and whisk until fully incorporated.
Sift in the flour and cocoa powder. Whisk until smooth.
Heat a small non-stick pan over medium-low heat, then add ⅓ cup (95 g) of batter at a time and tilt the pan to spread the batter evenly like a crepe.
Cook until bubbles appear on the surface and the batter is set, about 6-8 minutes. Flip the taco shell and cook on other side for another 3-4 minutes, until cooked through.
If desired, remove the taco shell from pan and place on a grated cooling rack while still hot. Place a sheet of parchment over the shell and press into the rack, allowing the grate marks to set into the shell. Rotate the shell 90 degrees and press the cone into the grates again for a waffled look. Or, skip to the next step.
Place the taco shells between the cups of an inverted muffin tin to form their shape. Let set for about 10 minutes, then freeze for 20 minutes to harden.
Make the magic shell: combine the chocolate and coconut oil in a medium bowl and microwave for 2 minutes, stirring every 30 seconds until melted and shiny.
Remove the taco shells from the freezer and use a spoon to coat the inside of each taco shell with melted magic shell. Return to the freezer for 20 minutes, until the magic shell hardens. Reserve the leftover magic shell.
Add the ice cream to a piping bag fitted with a round tip or a zip-top bag with the corner cut off.
Remove the shells from the freezer and pipe in the ice cream, filling the tacos. Smooth out the tops with a knife or rubber spatula. Freeze for 2 hours.
Microwave the reserved magic shell, if needed, to re-melt. Remove the tacos from the freezer and dip the tops of each taco in the magic shell, then immediately sprinkle with the crushed peanuts.
Serve immediately or return to the freezer until ready to eat.
Enjoy!
Watch the recipe video here:
Just when you thought tacos couldn't get any better! ??Get the recipe: https://tasty.co/recipe/chocolate-dipped-ice-cream-tacos

Posted by Tasty on Wednesday, July 10, 2019