Cute Cream Puffs
Cute Cream Puffs recipe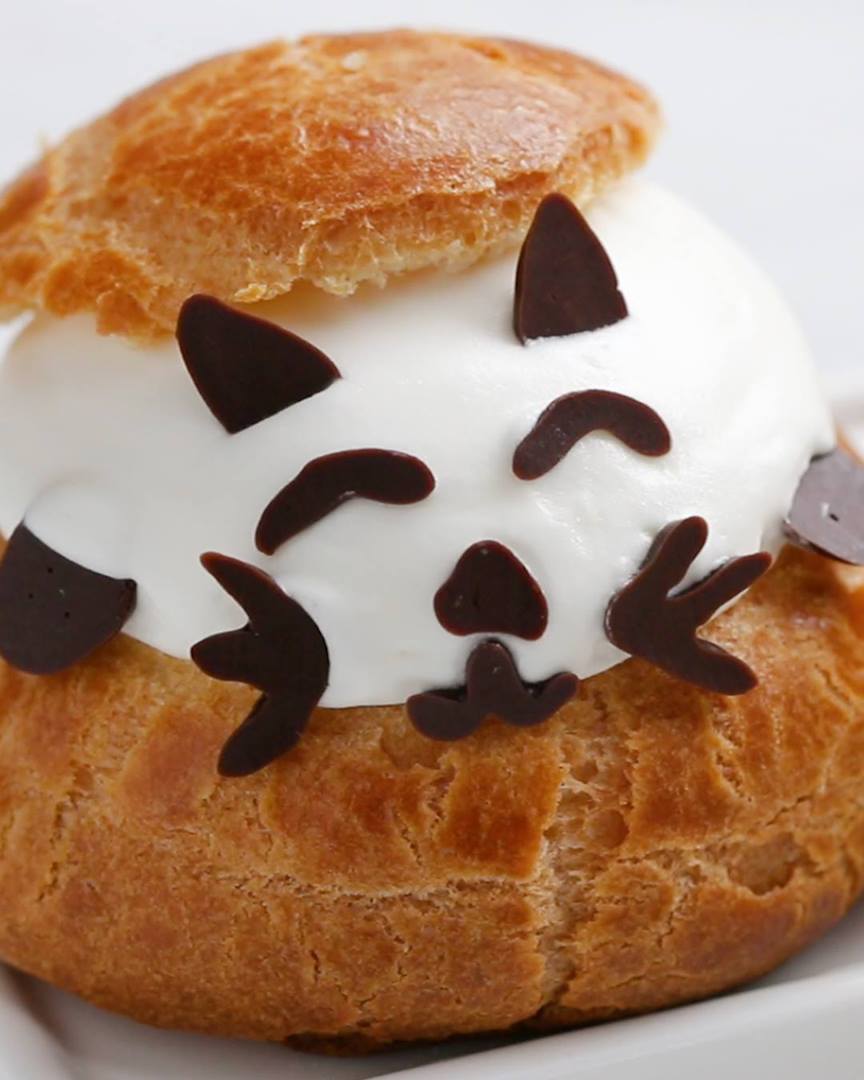 Ingredients
¼ cup dark chocolate, melted (45 g)
CUTE CREAM PUFFS
½ cup unsalted butter, 1 stick (115 g)
½ cup water (120 mL)
½ cup milk (120 mL)
3 tablespoons granulated sugar
1 teaspoon salt
1 cup all-purpose flour (125 g)
4 large eggs
1 egg, beaten, for egg wash
WHIPPED CREAM
2 cups heavy cream (480 mL)
3 tablespoons powdered sugar
1 teaspoon vanilla extract
SPECIAL EQUIPMENT
1 small piping bag, or zip-top bag
2 large piping bags, or zip-top bags with standard round tips
Instructions
Preheat the oven to 425˚F (220˚C). Line 2 baking sheets with parchment paper. Chill a large bowl in the freezer.
Add the melted chocolate to a small piping bag or zip-top bag and cut ⅛ inch (3 mm) off the tip of the bag.
Pipe 10 sets of ears, eyes, noses, mouths, and paws onto 1 of the parchment-lined baking sheets. Chill in the refrigerator until ready to use.
Make the puffs: in a medium pot, bring the butter, water, milk, sugar, and salt to a boil over high heat.
Once the liquid begins to boil, remove the pot from the heat and immediately add the flour, stirring constantly with a wooden spoon until the liquid is absorbed and the mixture begins to form a ball.
Return the pot to the heat and cook for another 30 seconds to remove excess moisture. Remove the pot from the heat. Working quickly, add the eggs one at a time, stirring until each one is fully incorporated before adding the next. Continue stirring until the dough starts to pull away from the sides of the pan and is thick and glossy. Transfer the batter to a piping bag or zip-top bag fitted with a round tip.
Pipe 1-inch (2-cm) dollops of batter on the prepared baking sheet, spacing them at least 1-inch (2-cm) apart.
Dip a fingertip in the egg wash and gently press down any points, then brush the egg wash lightly all over the puffs.
Bake for 10 minutes. Reduce the oven temperature to 350˚F (180˚C), and continue to bake for 20 minutes more, until golden brown.
Transfer the puffs to a wire rack and cool until able to handle. Cut the tops off of the puffs with a serrated knife. Let cool completely.
Make the whipped cream: add the heavy cream and powdered sugar to the chilled bowl and beat with an electric hand mixer or whisk until stiff peaks form. Transfer the whipped cream to a piping bag or zip-top bag fitted with a round tip.
Pipe mounds of whipped cream into the puffs. Add the tops of the puffs and decorate with the chocolate faces.
Enjoy!
Watch the recipe video here:
These cream puffs are the cutest thing you've ever seen! ?Get the recipe: https://tasty.co/recipe/cute-cream-puffs

Posted by Tasty on Thursday, July 11, 2019