Spumoni Bars
A pistachio cookie base, creamy cherry filling and heavenly chocolate topping make this festive layered bar a truly delicious twist on Italian spumoni. It looks like it takes forever to make, but is way easier than you think—promise!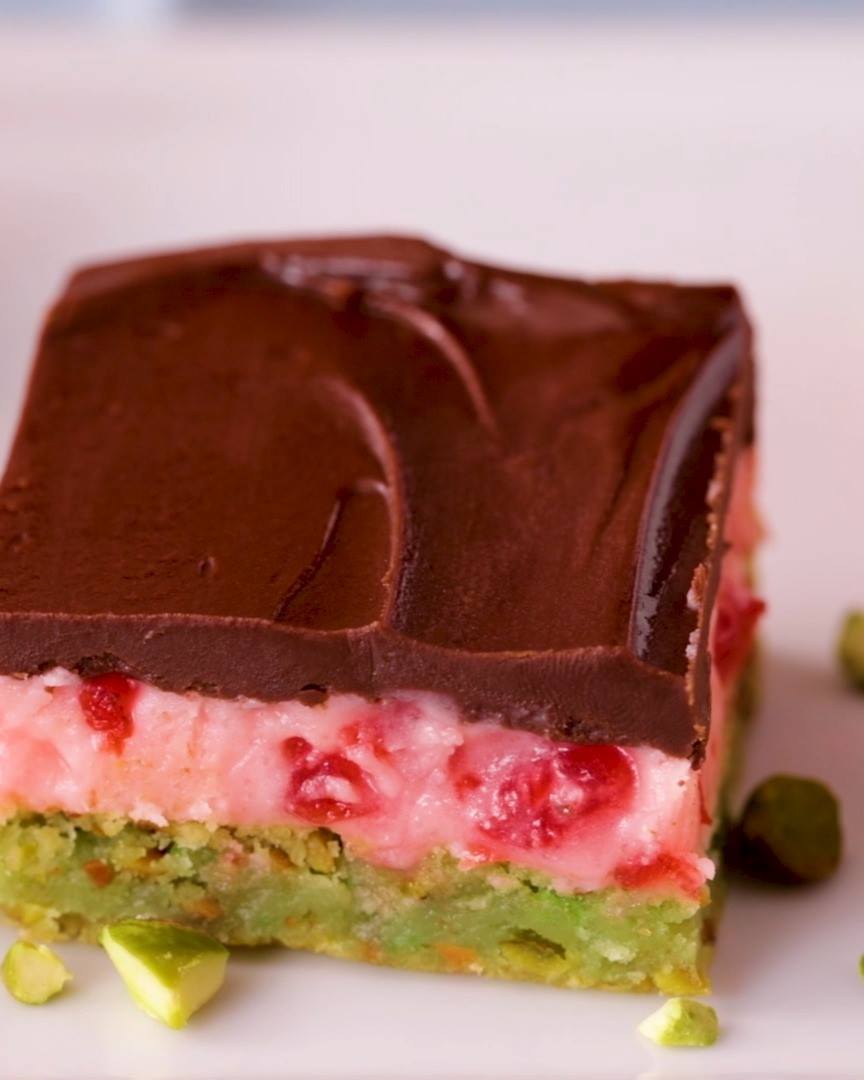 Ingredients
Bar
1 roll (16.5 oz) Pillsbury™ refrigerated sugar cookies
½ cup chopped shelled pistachio nuts
¼ teaspoon green gel food color
Filling
¼ cup white chocolate instant pudding and pie filling mix (from 4-serving box)
¼ cup butter, melted
⅓ cup chopped maraschino cherries
2 cups powdered sugar
1 to 2 tablespoons maraschino cherry juice
Topping
1 cup semisweet chocolate chips
¼ cup butter
Instructions
Heat oven to 350°F. Line 9-inch square pan with foil, extending foil over edges.
In medium bowl, stir or knead Bar ingredients until well mixed. Press dough evenly in bottom of pan.
Bake 15 to 20 minutes or until golden brown. Cool completely, about 1 hour.
In medium bowl, stir pudding mix and ¼ cup melted butter until well blended. Stir in maraschino cherries, powdered sugar and 1 tablespoon maraschino cherry juice (if necessary, add remaining cherry juice, 1 teaspoon at a time, until smooth and creamy). Spread filling evenly over cooled cookie base. Set aside.
In small microwavable bowl, microwave Topping ingredients uncovered on High 45 to 60 seconds, stirring every 15 seconds, until melted and smooth. Spread evenly over filling. Refrigerate about 1 hour or until set.
Use foil to lift from pan; pull foil edges away. For bars, cut into 4 rows by 4 rows. Store covered in refrigerator.
Watch the recipe video here: