Ladybug Appetizers
Cherry tomato quarters form the wings of these adorable little ladybugs dreamed up by our Test Kitchen. The delightful creatures are perched on crunchy crackers spread with a seasoned cream cheese mixture.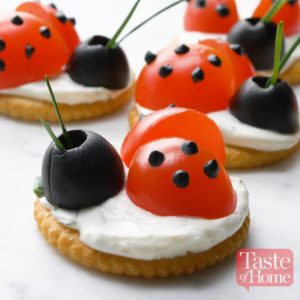 Ingredients
6 ounces cream cheese, softened
½ cup sour cream
Black paste food coloring
3 teaspoons minced chives
¼ teaspoon garlic salt
2 tablespoons minced fresh parsley
36 butter-flavored crackers
18 cherry tomatoes, quartered
18 large pitted ripe olives
72 fresh chive pieces (about 1-1/2 inches long)
Instructions
In a small bowl, beat cream cheese and sour cream until smooth. Remove 2 tablespoons to a small bowl and tint black. Place tinted cream cheese mixture in a small plastic bag; set aside.
Add the chives, garlic salt and parsley to the remaining cream cheese mixture. Spread over crackers. Arrange two tomato quarters on each for the ladybug wings.
For heads, halve the olives widthwise; place one half on each cracker. Insert two chives into olives for antennae. Use tinted cream cheese mixture to pipe spots onto wings.
Watch the recipe video here: