Bloomin' Onion Bites
Miniature versions are always better than the original.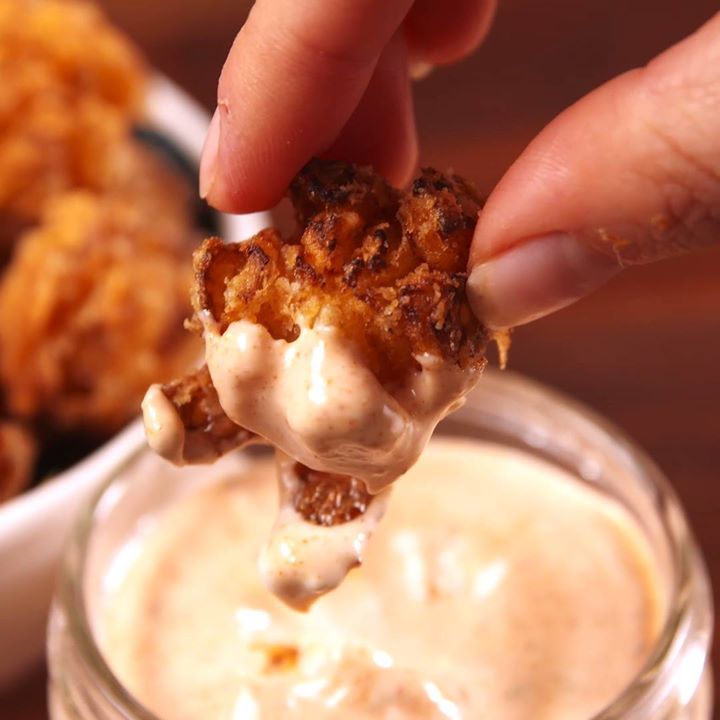 Ingredients
For the onions
20 pearl onions
2 eggs, lightly beaten
2 tbsp. water
1 c. flour
1 tsp. garlic powder
1 tsp. onion powder
1 tsp. paprika
kosher salt
Freshly ground black pepper
Vegetable oil, enough to fill skillet 1" high
For the dipping sauce
⅔ c. mayonnaise
2 tbsp. ketchup
1 tsp. horseradish
½ tsp. paprika
½ tsp. garlic powder
¼ tsp. dried oregano
Instructions
Cut tops of pearl onions, then slice top down (being careful not to cut all the way through) 3 times to form six sections of the onion. Using your fingers, separate onion sections.
In a shallow bowl, mix eggs with water. In a separate shallow bowl, mix flour with garlic powder, onion powder, and paprika. Season with salt and pepper. Stir together until combined.
Dredge onions first in egg and then in flour mixture.
In a large, high-sided skillet, heat oil. Fry onions in batches, until they are golden. Place on a paper-towel lined plate to drain.
Make the dipping sauce: In a medium bowl, whisk together mayo, ketchup, horseradish, paprika, garlic powder and oregano. Season with salt and serve.
Watch the recipe video here:
How To Make Bloomin' Onion Bites

If you love Outback Steakhouse's bloomin' onions, prepare to FREAK over these Bloomin' Onion Bites.Full recipe: http://dlsh.it/XauVb3C

Posted by Delish on Wednesday, November 8, 2017