Crispy Spiral Garlic Butter Chicken
CRISPY SPIRAL GARLIC BUTTER CHICKEN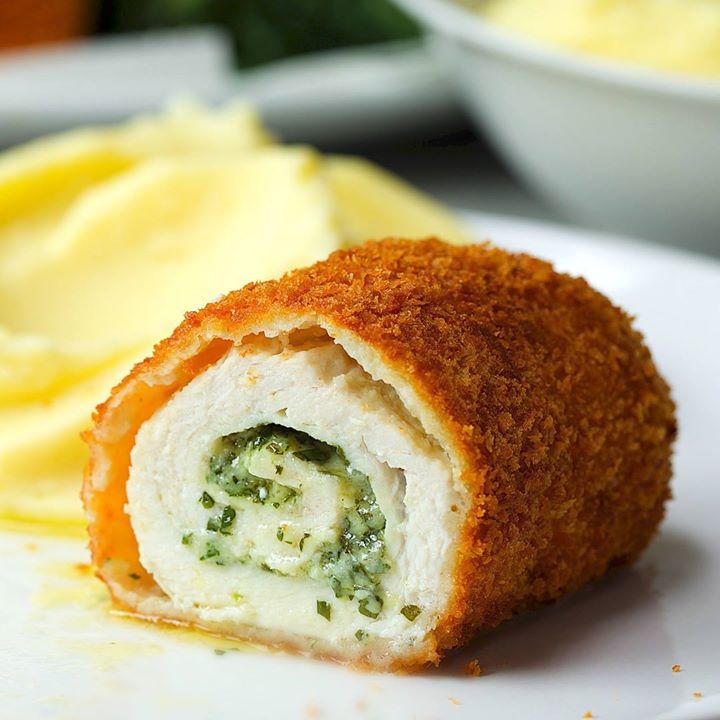 Ingredients
2 chicken breasts
1 cup panko breadcrumbs
1 cup plain flour
2 eggs, beaten
salt, to taste
oil, for frying
1 cup grated, chilled butter
1 cup parmesan, grated
3 tbsp parsley, finely chopped
3 cloves garlic, grated
mash potato, to serve
Instructions
Mix your chilled butter, garlic, parmesan and parsley. Mix until it forms cold crumbs. Refrigerate until ready.
Bash your chicken breasts as thin as possible. Spoon a couple of tablespoons of butter mix over each breast. Roll up into a spiral, then transfer to a clean piece of clingfilm and roll up tightly. Freeze for 30 minutes.
Dip each roll into flour, then egg, then breadcrumbs. Repeat.
Shallow fry in hot oil until nicely browned and cooked through. If you need to cook your rolls further, transfer to a hot oven for 10 minutes.
Serve with pillowy mash!
Watch the recipe video here: