Traveling Noodles
This lunch in a jar will make your coworkers seriously jealous.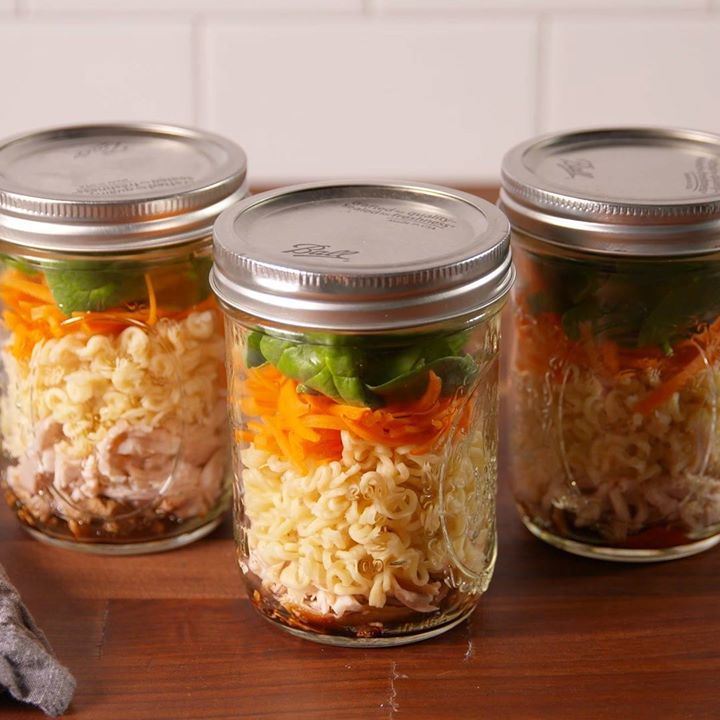 Ingredients
1 package instant ramen, flavor pack discarded
1 vegetable bouillon cube, quartered
1 tbsp. soy sauce
1 tsp. Hot sauce
1 tsp. freshly grated ginger
1 c. Shredded chicken
½ carrot, thinly sliced into matchsticks
1 c. baby spinach
2 tbsp. scallions
Instructions
Boil ramen noodles until al dente, just about 2 minutes. Drain immediately and run cold water over the noodles to stop the cooking.
Place bouillon cube quarters in the bottom of each mason jar. Divide soy sauce, hot sauce and fresh ginger between the jars. Top with shredded chicken, then pack the noodles down over the chicken. Layer the baby spinach, carrots and scallions on top. Seal and refrigerate the jars until ready to eat.
Pour boiling water over the top of the noodles. Screw back on the lid and let steep for 2 to 3 minutes.
Stir thoroughly and eat right away!
Watch the recipe video here:
These Traveling Noodles are the most genius thing to do with ramen.Full recipe: http://dlsh.it/b6utr5J

Posted by Delish on Wednesday, January 17, 2018