Sweet Macaroni Salad
A sweet out-of-the-ordinary dressing makes this homemade macaroni salad special. My aunt gave me the recipe and it has become one of my favorites. I occasionally leave out the green pepper if I know that people don't like it ... and it still tastes great.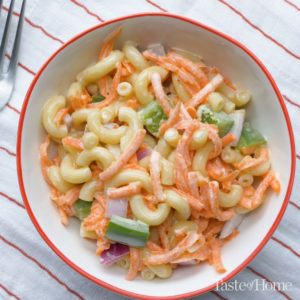 Ingredients
1 package (16 ounces) elbow macaroni
4 medium carrots, shredded
1 large green pepper, chopped
1 medium red onion, chopped
2 cups mayonnaise
1 can (14 ounces) sweetened condensed milk
1 cup cider vinegar
½ cup sugar
1 teaspoon salt
½ teaspoon pepper
Instructions
Cook macaroni according to package directions. Drain and rinse in cold water; drain well.
In a large bowl, combine macaroni and vegetables. Whisk together remaining ingredients until smooth and sugar is dissolved; stir into macaroni mixture. Refrigerate, covered, overnight.
Watch the recipe video here: