Giant Cheeseburger & Fries Burrito
Roll up, roll up! Literally. Combining three of life's most sinful luxuries - burgers, fries and burritos, this is unquestionably not one of your five a day. However, a life without pleasure is unquestionably a life half lived. So sit back, buy some tortillas and roll yourself into a cheesy, meaty stupor.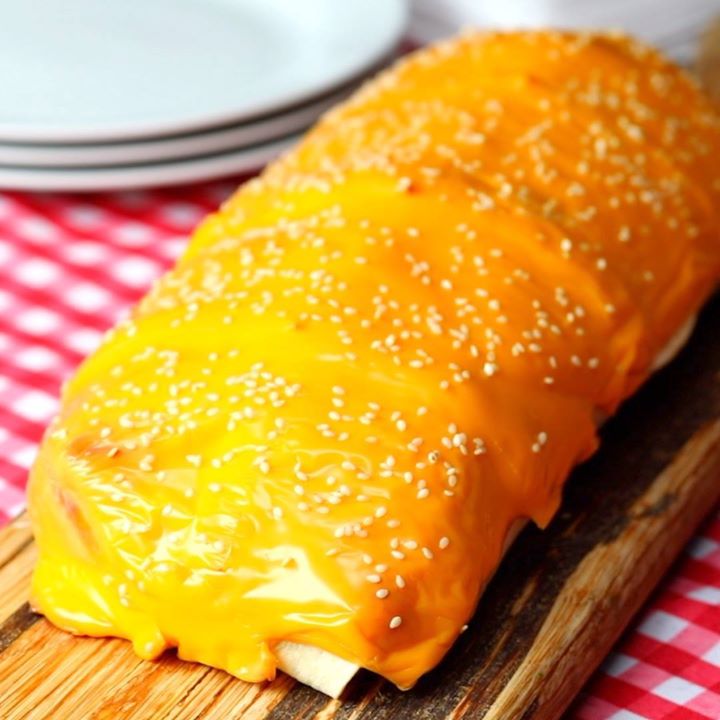 Ingredients
1 tbsp vegetable oil
2 large burgers
1 tsp salt
1 tsp pepper
3 tbsp butter
3 tbsp flour
500ml milk
1 pack (roughly 8 sheets) American cheese
2 cups grated red cheddar
¼ cup four
¼ cup milk
5 regular flour tortilla
Another packet American-style cheese
Instructions
Preheat the oven to 180°C/360°F.
Heat the oil in a large sautee pan. Rip up the burgers and fry for a few minutes, turning frequently, then season.
Add the butter and heat until foaming then sprinkle in the flour and rapidly stir everything together. Pour in the milk gradually, stirring all the time, to make a thick sauce, then add the two cheeses and stir together. Take off the heat and set aside.
Stir together the flour and water to make a paste. Stick three tortillas together and top with another two. Slather with mild mustard and ketchup and chips, then spoon over the cheesy burger mess and carefully roll the whole thing up.
Place on a lined baking tray and cover with more American cheese and, finally, sprinkle with sesame seeds.
Bake for round 20 minutes until warmed through. Enjoy!
Watch the recipe video here: