Chocolate Slab Ice Cream Sandwiches
Chocolate Slab Ice Cream Cookie Sandwiches will leave you drooling! ??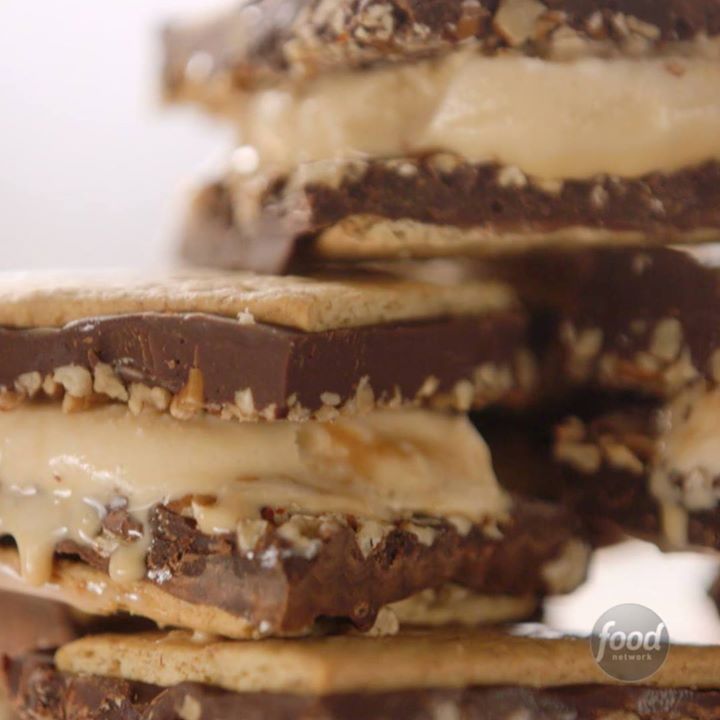 Ingredients
2 cups finely chopped pecans
1½ teaspoons salt
4 cups semisweet chocolate chips
8 graham crackers, halved
1 pint dulce de leche ice cream
Instructions
Preheat the oven to 350 degrees F.
Put the pecans on a baking sheet and bake until golden brown, 6 to 8 minutes. Let cool for 10 minutes. Sprinkle with the salt.
Melt the chocolate in a double boiler. Pour the chocolate over the nuts and spread evenly. Place the graham crackers on top in rows, leaving some space between each. Freeze for 15 minutes.
Carefully cut out the chocolate-coated graham cracker squares. Transfer half of the chocolate crackers to another baking sheet chocolate-side up. Top each with a small scoop of ice cream, then top with another cracker chocolate-side down. Freeze for 25 minutes. Wrap individually and freeze until ready to serve.
Watch the recipe video here: