Watermelon Bread
Don't worry, this adorable watermelon bread doesn't have seeds!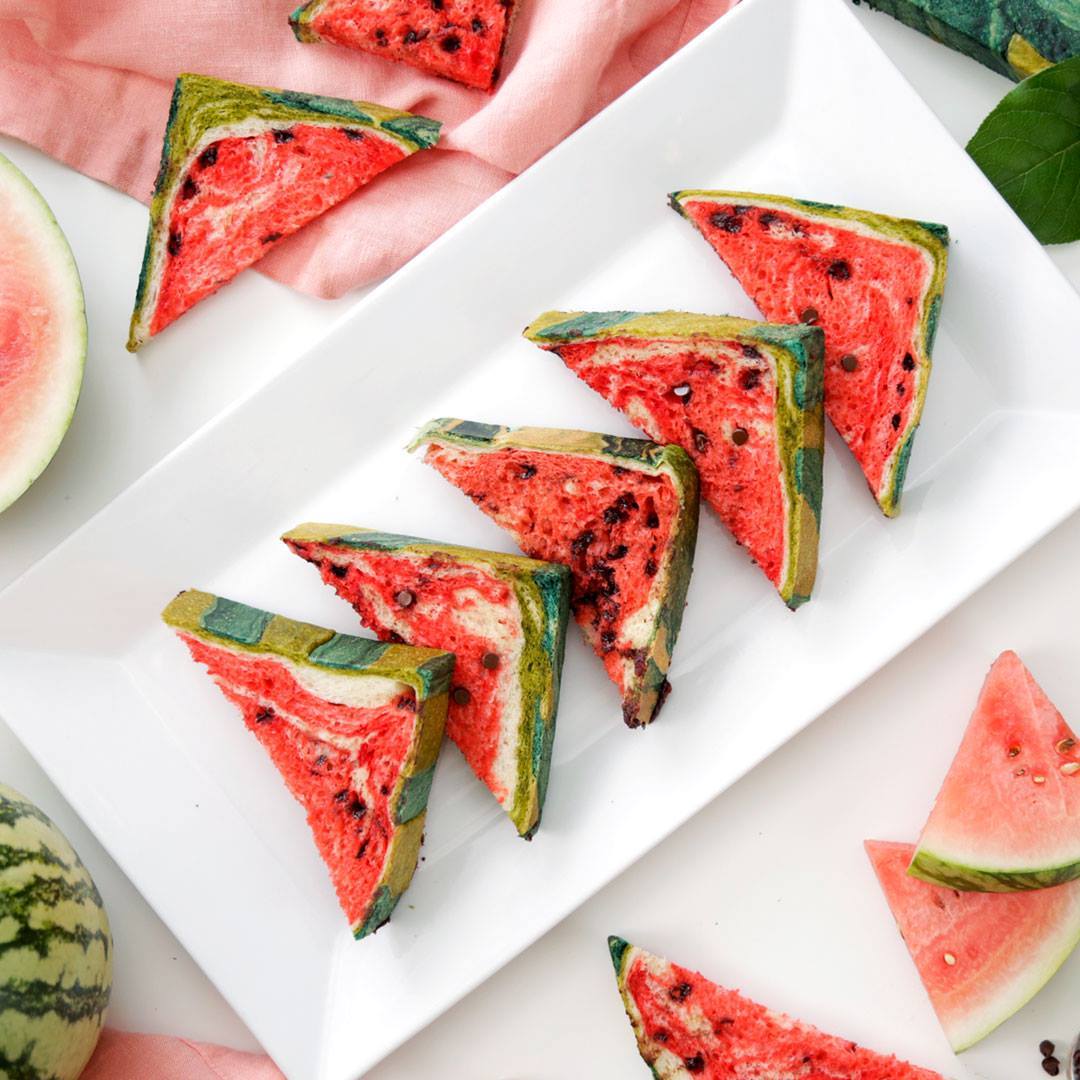 Ingredients
For the bread starter:
2 tablespoons plus 2 teaspoons bread flour
¼ cup whole milk
¼ cup water
For the bread dough:
2½ cups bread flour
¼ cup sugar
1 packet active dry yeast
1 teaspoon salt
1 egg
½ cup warm whole milk
4 tablespoons unsalted butter, at room temperature
Red food coloring
2 tablespoons fresh watermelon juice
Light green food coloring
Dark green food coloring
Black food coloring
1½ cups dark chocolate chips
Instructions
Make the starter:
In a small saucepan, whisk together flour, milk and water. Bring to a simmer, whisking continuously, until mixture has thickened, about 6 to 8 minutes. Pour into a small heatproof bowl, cover with plastic wrap and set aside to cool slightly.
Make the bread dough:
In a large bowl, add flour, sugar, yeast and salt and mix well. Add egg, milk and cooled starter mix. Knead the mixture until it comes together, and continue for another few minutes. Add butter and knead for another 10 to 15 minutes until the dough becomes uniformly smooth and springy.
Divide the dough into four parts, one slightly larger than the other three. Tint the larger portion watermelon red, incorporate the watermelon juice and chocolate chips, roll it into a smooth ball and place it in a buttered bowl. Cover with plastic wrap.
Form one of the remaining three doughs into a smooth ball, and place into a buttered bowl then cover with plastic wrap. Tint another one of the remaining dough balls light green. Form the dough into a smooth ball, and place into a buttered bowl then cover with plastic wrap. Tint the last piece of dough greenish black. Form the dough into a smooth ball, and place into a buttered bowl then cover with plastic wrap.
Allow all four doughs to rise, covered, until they have doubled in size, about 50 minutes to 1 hour.
Butter a 9 by 5-inch pullman loaf pan.
Once doubled, remove each dough ball from its bowl one at a time and punch it down. Portion each ball of dough into seven equal parts, forming the parts into smooth balls and then covering all of the dough with plastic wrap to keep it moist.
Form the red dough into a log almost the length of the loaf pan. Roll out the untinted dough and wrap it around the red dough. Set aside covered in plastic wrap. Roll out the dark green dough and cut it into zigzag strips. Roll out the light green dough and place the strips on top of the light green dough. Roll them out slightly to incorporate the two. Wrap the dough around the watermelon center log with the stripes going in the same direction as the length of the loaf pan.
Place the dough into the greased loaf pan and close the top. Set aside to rise for another 40 to 50 minutes. Halfway through the proof, preheat oven to 350 degrees.
When dough has risen again, place in the oven and bake for 35 to 40 minutes. When loaf is done, remove from the oven and allow to cool in the pan for about 10 minutes, then turn out loaf and finish the cooling process on a wire rack for at least one hour before slicing and serving.
Watch the recipe video here:
We're mixing up some magic & give you: watermelon bread.Taste for Yourself: taste.md/2ttDIfE

Posted by Tastemade on Saturday, June 30, 2018