Chicken in Bread
So many layers of savory goodness! Why doesn't all bread come stuffed with meat and cheese?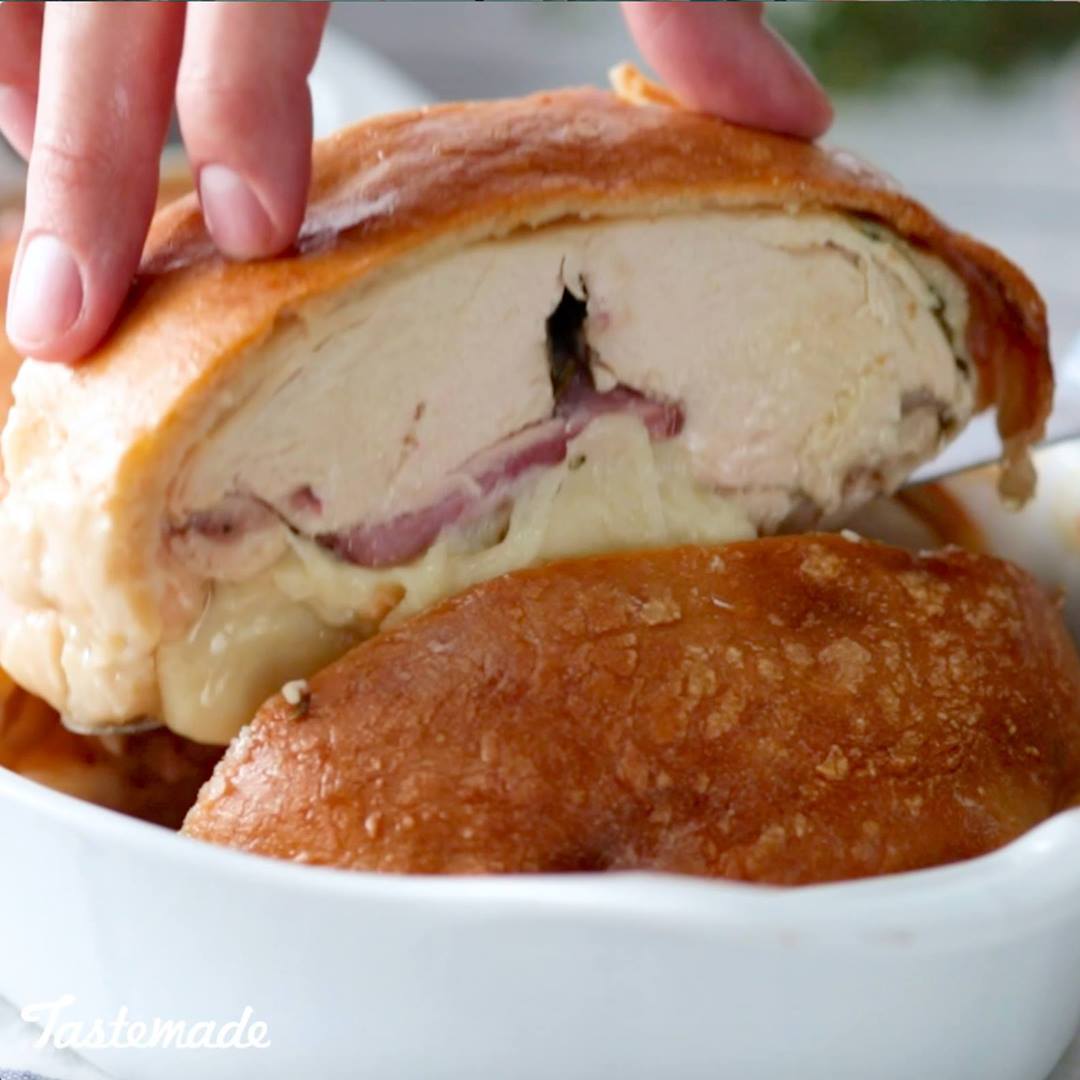 Ingredients
Brine:
4 cups water
½ cup brown sugar
¼ cup kosher salt
Bread:
2½ teaspoons dry active yeast
2 teaspoons white sugar
1¼ cups warm water
2½ cups all-purpose flour
1 tablespoon kosher salt
Chicken:
1 whole organic chicken, deboned
4 tablespoons salted butter
3 tablespoons chopped rosemary
3 tablespoons chopped thyme
8 ounces ham
10 ounces sliced Swiss cheese
Salt and pepper, to taste
Instructions
In a wide, shallow dish, combine brine ingredients.
Place the deboned chicken in the brine and place in the fridge for at least 2 hours.
In a large mixing bowl, mix yeast, sugar and warm water. Let sit for 10 minutes until the yeast has activated. Add in the flour a little at a time, making sure to incorporate before adding more. Add the salt, cover bowl with a kitchen towel, and let rise in a warm place for an hour or until doubled in size.
When dough has doubled in size, remove onto a floured surface and delicately shape into a ball, return to bowl, and allow to rise once more until doubled in size, about an hour.
Remove the chicken from the brine and thoroughly pat dry. Mix the butter with the herbs and press underneath the skin of the chicken. Season with salt and pepper inside and out. Stuff chicken with ham and cheese slices.
Preheat oven to 360 degrees.
After dough has doubled in size again, remove from bowl and place on a floured surface. Lightly stretch the dough (this should be very easy) to a 1 foot by 1 foot square. Delicately lay the dough over a 9 by 13 pan, place the chicken in the center of the dough, and fold the dough over starting from one corner and working your way around, sealing with a little water as you go.
Bake for 1½ hours. Move loaf to cutting board, slice and serve.
Watch the recipe video here:
Serious Question: Why doesn't all bread come stuffed with meat & cheese?Taste for Yourself: taste.md/2JFOh8F

Posted by Tastemade on Sunday, June 10, 2018