Grilled Chicken Quesadillas
Grilling ALL the ingredients makes for a much more flavorful quesadilla. Try it, and you won't want to make them any other way!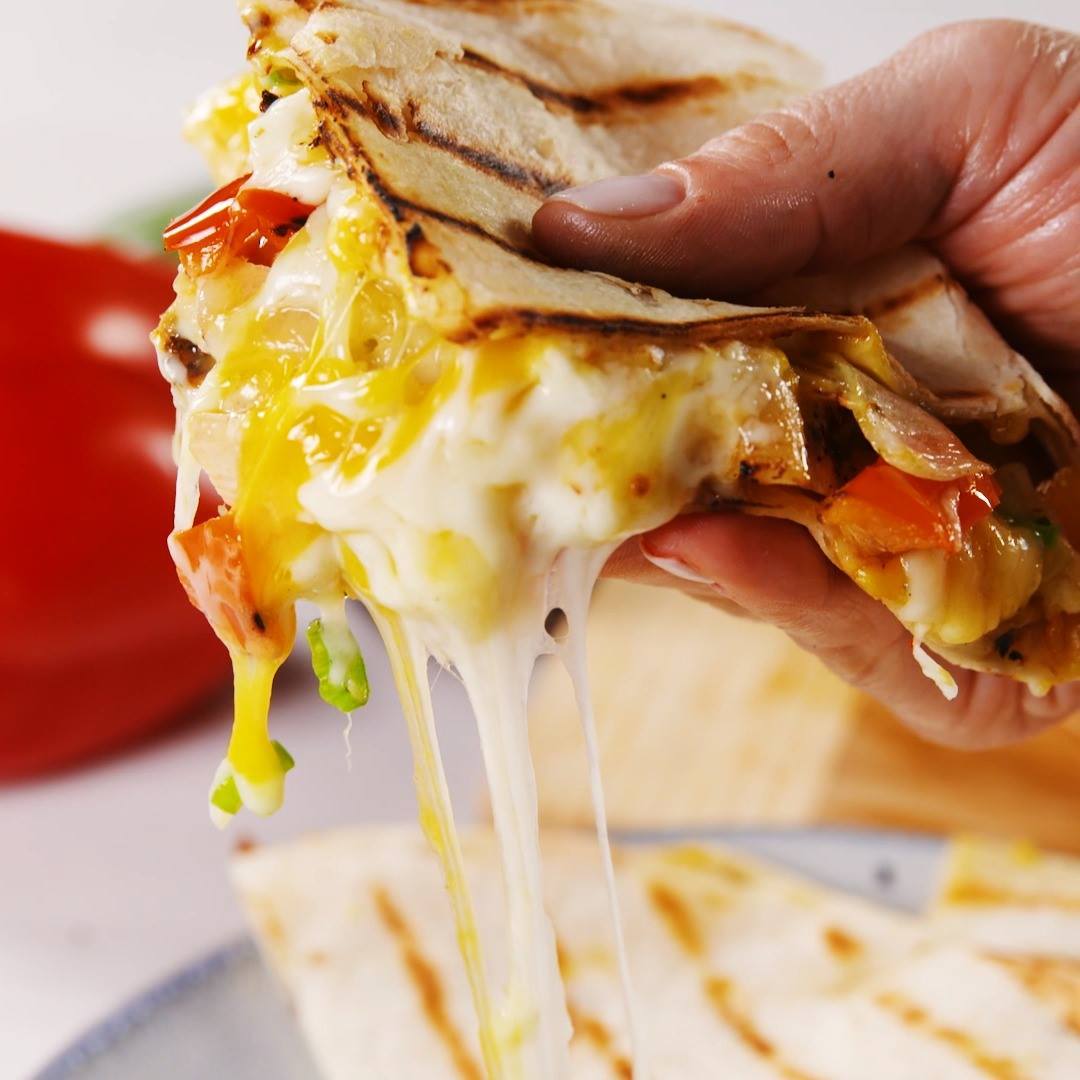 Ingredients
Vegetable oil, for brushing
1 small white onion, sliced into rounds
2 medium red bell peppers, sliced into rounds
Kosher salt
Freshly ground pepper
2 (8-oz.) chicken breasts
½ tsp. chili powder
½ tsp. ground cumin
½ tsp. dried oregano
8 medium flour tortillas
3 c. shredded Monterey Jack
3 c. shredded cheddar
2 green onions, thinly sliced
Guacamole, for serving
Sour cream, for serving
Instructions
Preheat a grill pan over medium heat and oil the grates. Season chicken breast with chili powder, cumin, oregano, ½ teaspoon salt and pepper, and grill, turning occasionally, until browned and cooked through, 5 minutes per side. Remove chicken to a cutting board and let cool until vegetables are cooked.
Meanwhile, in a medium bowl, toss the onion and bell pepper with 1 teaspoon oil and season with salt and pepper. Grill the vegetables, turning occasionally, until lightly charred in places and just tender, about 8 to 10 minutes total. Remove vegetables from grill to a cutting board.
Slice the chicken into thin strips and roughly chop the peppers and onion.
Oil the grill grates and add a flour tortilla to the grill. Carefully, top the tortilla with ¼ each of the Monterey Jack, cheddar, cooked onion and bell pepper, cooked chicken, and green onions. Place another tortilla on top and cook, carefully flipping once, until golden on both sides, about 3 minutes per side. Repeat with remaining ingredients.
Slice into wedges and serve warm with sour cream and guacamole. Sprinkle with more green onions.
Watch the recipe video here: