Garlic Bread Stuffed With Chicken
For that perfect bread to chicken to garlic ratio, try these garlic bread rolls stuffed with fried chicken and cheese.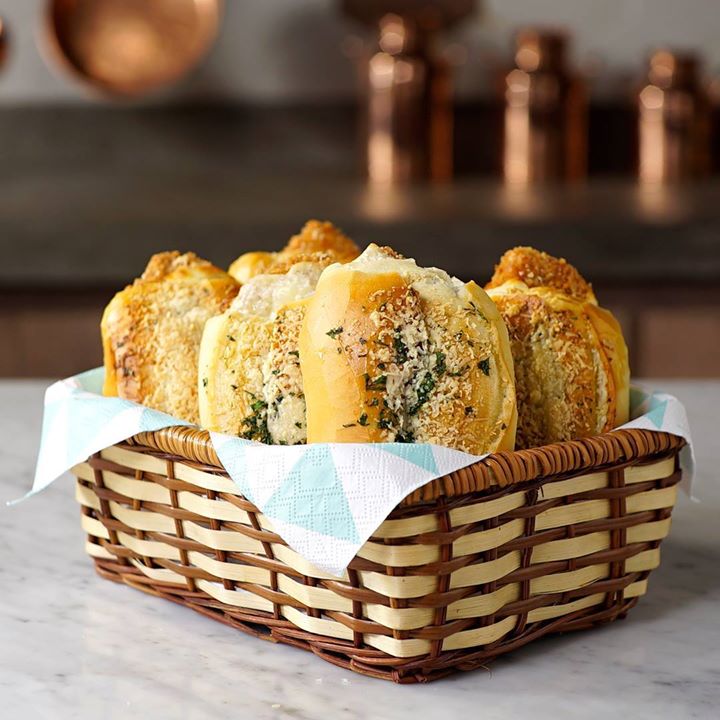 Ingredients
2 chicken breasts, cut in half
Salt and pepper, to taste
Flour, for breading
1 egg, beaten
Breadcrumbs, for breading
Frying oil
5 cloves garlic, minced
½ cup butter, softened
⅓ bunch parsley, chopped
2 French bread loaves, halved
8 slices mozzarella cheese
3½ ounces grated Parmesan cheese
Instructions
Preheat oven to 350 degrees.
Season the chicken with salt and pepper.
Dip each into the flour, egg and breadcrumbs.
Fry in hot oil until golden and crispy. Set aside to cool.
Wrap each breaded chicken piece with 2 slices of mozzarella cheese.
Smash the garlic cloves with a pinch of salt until it forms a paste. Transfer to a bowl with the softened butter and add the parsley. Mix well.
Open the bread loaves at the ends, hollow out the insides, and spread the interior with garlic paste. Insert a chicken breast into the opening.
Arrange the bread rolls on a baking sheet, brush with the remaining garlic paste and sprinkle with Parmesan cheese. Bake for 10 minutes.
Watch the recipe video here:
Garlic Bread Stuffed With Chicken

When your friend asks what happened to all the garlic bread, prepare to start pointing fingers.Full Recipe: taste.md/2EvQjTV?: Tastemade Brasil

Posted by Tastemade on Friday, February 23, 2018