Chicken Alfredo Mozzarella Sticks
OMG, look at these sticks of unadulterated joy. Forget about your figure and lose yourself in their perfection - crispy exterior giving way to a soft, molten interior. Full of mozzarella, parmesan and other really nice bits these are a sure fire way to impress all of your mates. Get ready to finally experience true happiness.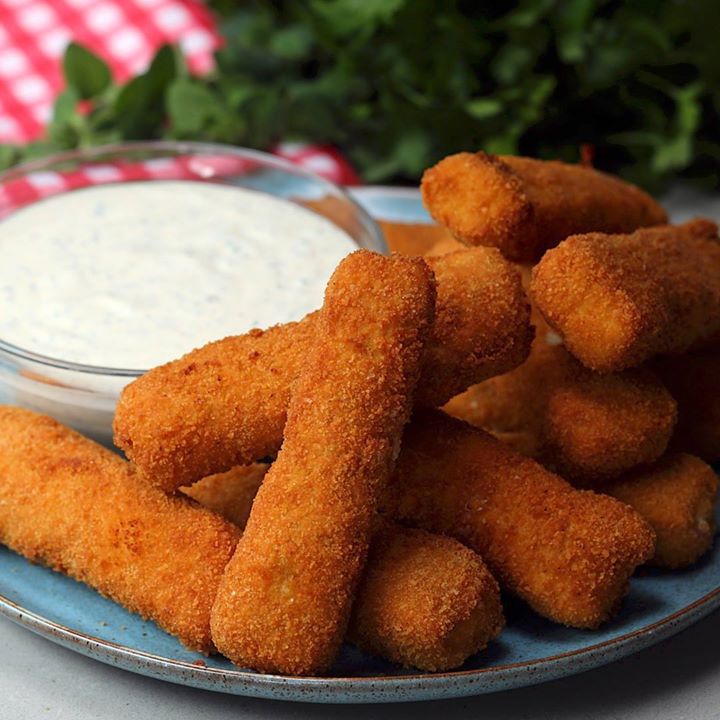 Ingredients
2 cups cream cheese
3 shredded chicken breasts
2 cups mozzarella
1 cup parmesan
1 tsp salt
1 tsp black pepper
2 cloves garlic, crushed
2 cups flour
4 eggs, beaten with a little milk
2 cups breadcrumbs seasoned with a little fine sea salt
Ranch Dressing
1 cup mayonnaise
½ cup sour cream
2 tbsp chopped parsley
2 tbsp chopped fresh oregano
1 tsp dried basil
1 clove garlic, crushed
½ tsp salt
½ tsp pepper
1 tbsp lemon juice
1 tbsp Worcester sauce
Instructions
Warm the cream cheese in the microwave to make it a little looser and easier to work with. Add the chicken, mozzarella, parmesan, garlic and seasoning and fold everything together.
Line a 23cm square baking tray and spread the mixture evenly into it, then freeze until solid (roughly 3-4 hours).
While the mix is freezing whisk together all the ingredients for the ranch dressing and set aside.
Cut the slab of frozen chicken - cheese goodness into strips, then (working fairly quickly) dip them in the flour, egg mix, seasoned breadcrumbs and back again into the egg mix and breadcrumbs.
Fry in batches in a large, stable pot of oil at around 170°C until they are crisp and brown. Serve with the ranch dressing.
Watch the recipe video here: