Ranch Chicken & Rice
Ranch dressing turns up the flavor real quick.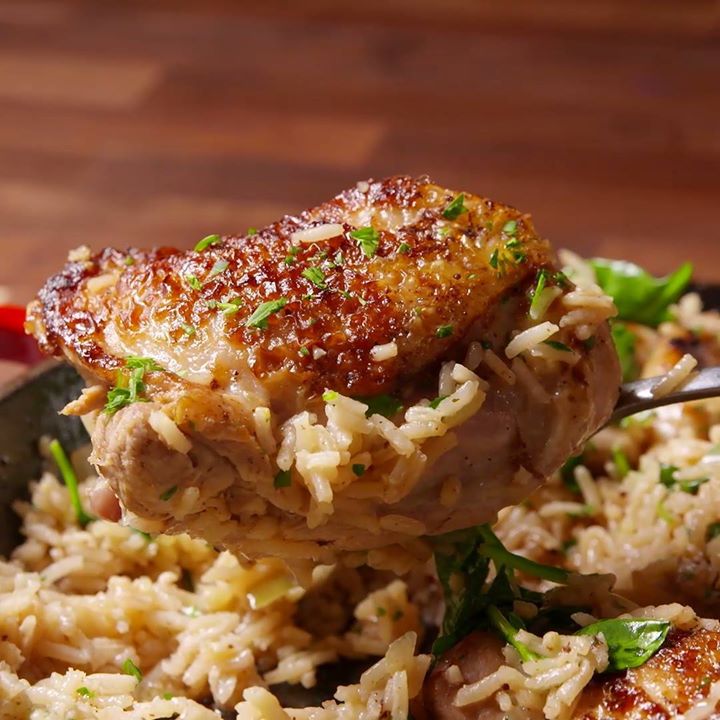 Ingredients
boneless chicken thighs
kosher salt
Freshly ground black pepper
1 c. buttermilk ranch dressing
¼ tsp. cayenne
extra-virgin olive oil
3 garlic cloves, minced
1 onion, chopped
2 c. low-sodium chicken stock
1 bunch kale, chopped into 1" pieces
1 c. baby spinach
1 c. white rice
¼ c. chopped parsley
Instructions
In a large mixing bowl season chicken with salt and black pepper. Add ranch dressing and cayenne pepper; marinate 5 minutes. Remove chicken from marinade and pat dry with paper towels.
In a large skillet over medium-high heat add 2 tablespoons olive oil and sear chicken skin-side down until golden, about 5 minutes. Transfer to a plate skin-side up; set aside. Drain skillet, reserving 1 tablespoon fat, and discard balance. Turn heat down to medium and cook garlic and onion for 2 minutes, until beginning to soften. Stir in stock, kale (if using), rice, 1 teaspoon salt, and ½ teaspoon black pepper. Place chicken in rice mixture, skin-side up. Simmer until rice is tender, about 20 minutes.
Stir in baby spinach and parsley. Serve immediately.
Watch the recipe video here: