Frank's Sheet Pan Chicken Grilled Cheese
As we pay homage to the greatest food of all time on National Fried Chicken Day, Team Twisted began asking ourselves, 'how could we take fried chicken to the next level this year'? After testing every delicious combination under the sun, we can officially confirm that Frank's Sheet Pan Chicken Grilled Cheese is the taste sensation you deserve this summer. Sometimes stars align to create something truly epic. And cheesy.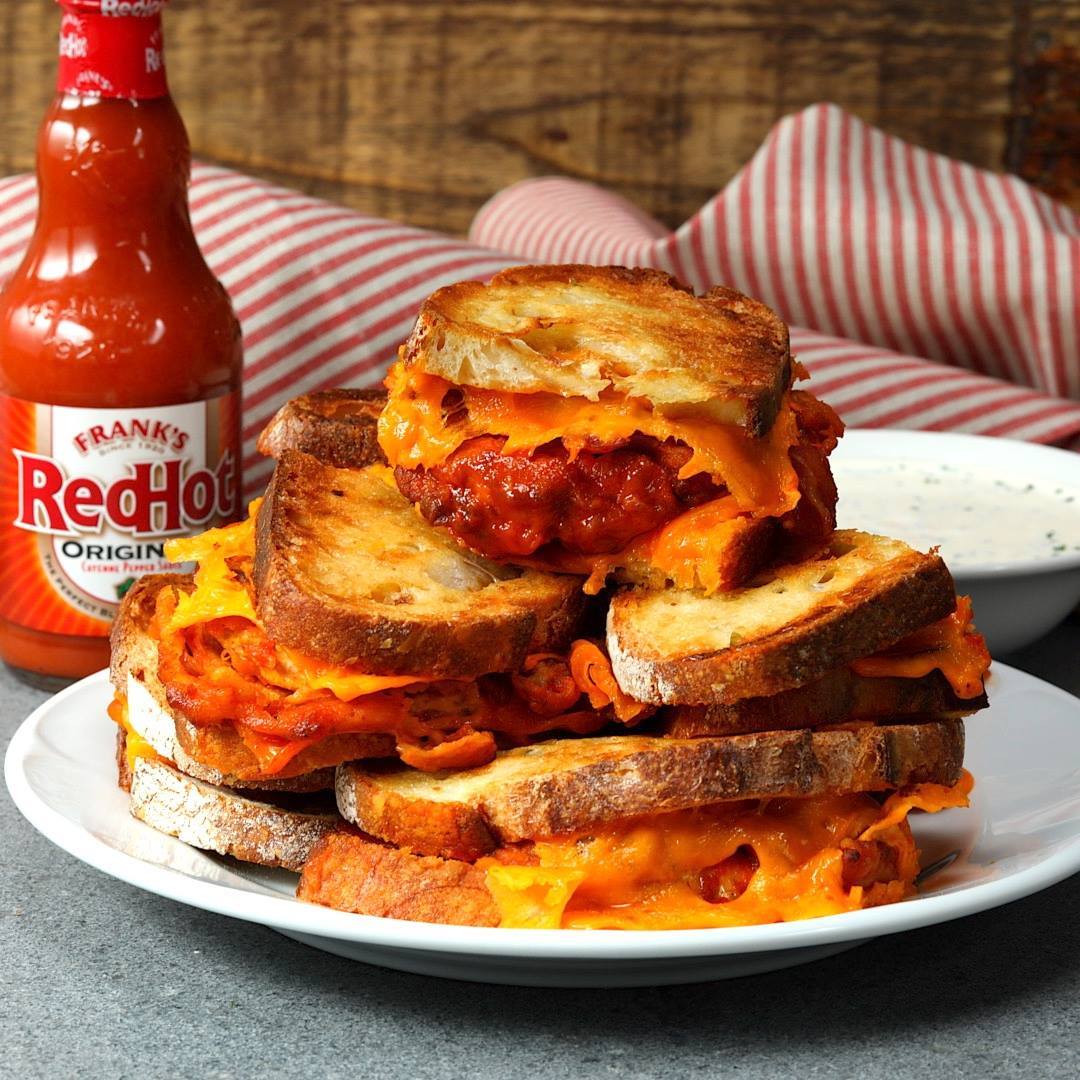 Ingredients
1 large sourdough loaf- cut into slices
4 chicken breasts, butterflied, flattened and cut into 4" pieces
1 ½ cups plain flour
2 cups buttermilk
1 tbsp black pepper
1 tbsp salt, plus ½ tsp
½ tbsp paprika
½ tbsp garlic powder
12 slices American cheese
¼ cup mayonnaise
oil, for frying
1 cup franks original hot sauce
4 tbsps honey
2 tbsp butter
12 strips bacon, cooked (optional)
cool ranch dressing, for serving
Instructions
Pop your pieces of chicken into the buttermilk along with ½ tsp salt.
Pop in the fridge for a couple of hours.
Mix the flour with the ¼ tsp salt, pepper, paprika, garlic powder. Lift out a chicken breast and allow excess to drip off before dunking into the flour. Shake off excess.
Fry in hot oil until nicely golden and cooked through. Repeat with the rest and drain well on kitchen towel.
Make your buffalo sauce. Heat the hot sauce and honey over medium heat. Whisk in cold butter until emulsified. Dunk your fried chicken in the sauce.
Spread a thin layer of mayonnaise over one side of the bread slices. Lay these slices on a lined baking tray, mayonnaise side facing downwards. Top with a little cheese, then top with the chicken pieces, the cooked bacon, a little more cheese, then the top piece of bread. Weigh down with another tray and bake at 200°C for 10-15 minutes, or until nicely melted and delicious.
Watch the recipe video here: