No-Churn Watermelon Ice Cream Slices
What fun to slice into a mini watermelon and reveal luscious watermelon ice cream hidden inside!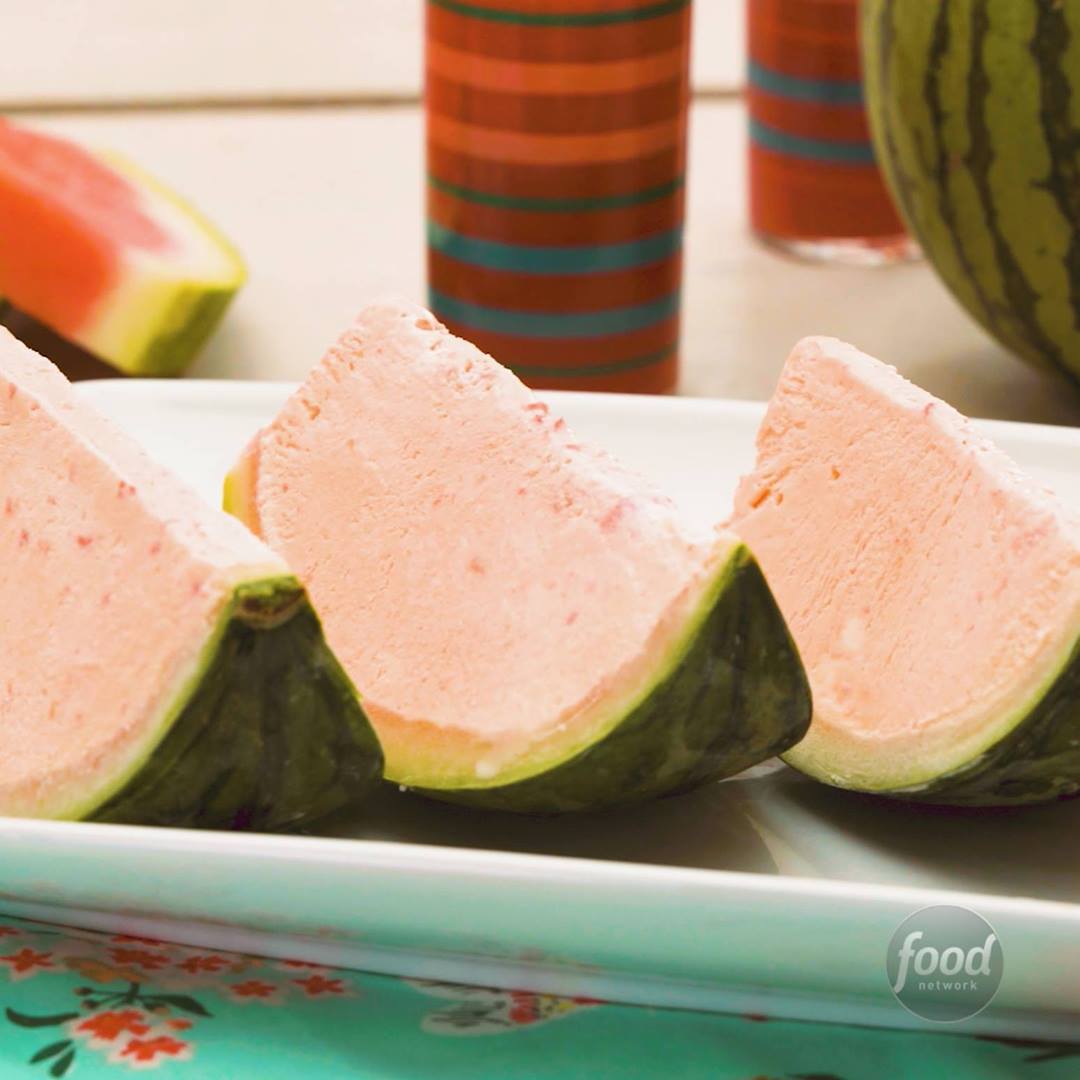 Ingredients
One 4- to 5-pound mini seedless watermelon
One 14-ounce can sweetened condensed milk
Pinch fine salt
2 cups heavy cream, chilled
Instructions
Special equipment:
an immersion blender
Cut a thin slice off the top of the watermelon, just enough to show the pink of the inside flesh. Stand the watermelon upright vertically in a large bowl. Place an immersion blender into the cut part at the top of the watermelon and puree the flesh, moving the blender in and around, following the shape of the inside of the watermelon. Be careful not to cut through the sides or bottom of the watermelon rind.
Pour out the juice and reserve 1 cup for the ice cream; save the rest for another use. Using a spoon, scoop out any remaining red watermelon flesh so you have a smooth white interior (this is important so the melon freezes properly). Make sure there is no juice remaining inside and pat dry with a paper towel.
Freeze the watermelon while you make the ice cream.
Whisk together the condensed milk, salt and reserved watermelon juice in a large bowl and set aside.
Whip the heavy cream in a large bowl with an electric mixer on medium-high speed until firm peaks form, about 2 minutes. Fold about one-half of the whipped cream into the condensed milk mixture with a rubber spatula until combined, then fold the lightened mixture into the remaining whipped cream until well blended. Pour the mixture into the frozen watermelon, filling it all the way to the top. Cover with plastic wrap and freeze until solid, 3 hours and up to overnight.
If frozen overnight, let the watermelon thaw for about 2 hours in the refrigerator before serving. Place the watermelon cut-side down on a cutting board and halve lengthwise with a long chef's knife. Cut each half lengthwise into 3 wedges.
Watch the recipe video here: