Bacon Wrapped BBQ Chicken Roll
Continuing our series of meaty logs is this, a real jewel in the crown of cuisine, a shining beacon extolling the unbridled joys of being a carnivore. BBQ chicken strapped up in a swaddling of saucy bacon, this is truly the one.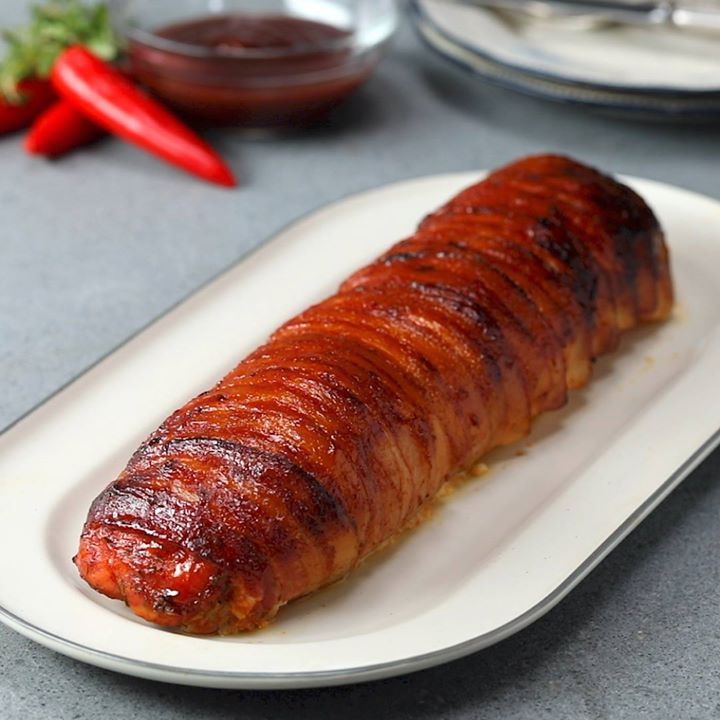 Ingredients
6 chicken breasts
3 tbsp paprika
3 tbsp light brown sugar
1 tbsp onion powder
1 tbsp thyme
1 tbsp salt
1-1/2 teaspoon garlic powder
1 teaspoon cumin
¾ teaspoon cayenne pepper
1 large pack streaky bacon
BBQ sauce for brushing
Instructions
Using a rolling pin bash each chicken breast to about 1cm thick between 2 sheets of clingfilm.
Whisk together all the spices and dip the chicken in. Lay the breasts in a rough overlapping square shape on a sheet of greaseproof paper. Scatter with cheese and, using the paper as a guide, roll up into a tight spiral and chill in the fridge for about an hour.
Lay the bacon on another sheet of greaseproof paper and roll it up again, making sure the bacon overlaps.
Brush with BBQ sauce and roast for 50 minutes, until cooked through.
Watch the recipe video here: