Crab Cake Poppers
Mini crab cakes that you won't be able to stop eating.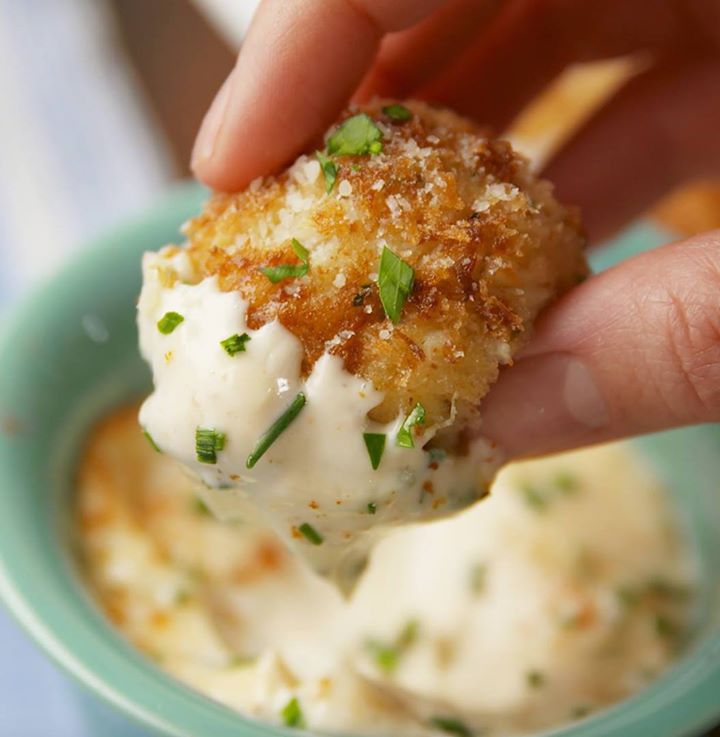 Ingredients
FOR THE POPPERS
2 oz. cream cheese, softened
2 tbsp. mayonnaise
1 Egg, lightly beaten
1 tsp. lemon juice
1 tsp. Old Bay seasoning
Dash Worcestershire sauce
1 lb. lump crab meat
⅓ c. shredded mozzarella
2 tbsp. finely chopped chives, divided
1 clove garlic, minced
1½ c. panko bread crumbs, divided
kosher salt
Freshly ground black pepper
Vegetable oil, for frying
FOR THE AIOLI
½ c. mayonnaise
1 tbsp. lemon juice
1 tsp. Old Bay seasoning
Instructions
In a large bowl, combine cream cheese, mayonnaise, egg, lemon juice, Old Bay, and Worcestershire. Mix until smooth, then fold in crab meat, mozzarella, chives, garlic and ¾ cup bread crumbs. Season with salt and pepper.
Roll mixture into small balls (about 1") then coat in remaining panko. Freeze until firm, about 30 minutes.
In a large, high-sided skillet over medium heat, heat about ½" vegetable oil. Working in batches, add crab cake poppers. Fry until all sides are golden, using tongs to gently turn balls, about 3 minutes per side. Drain on a paper towel-lined plate.
Make aioli: In a small bowl, whisk together mayonnaise, lemon juice and Old Bay until smooth. Serve poppers warm with aioli.
Watch the recipe video here:
You need to know about Crab Cake Poppers ?Full recipe: http://dlsh.it/UA4p9gF

Posted by Delish on Saturday, January 20, 2018