Pulled Pork-Stuffed Cornbread Muffins
These pulled pork-stuffed cornbread muffins are the collab of the year! ?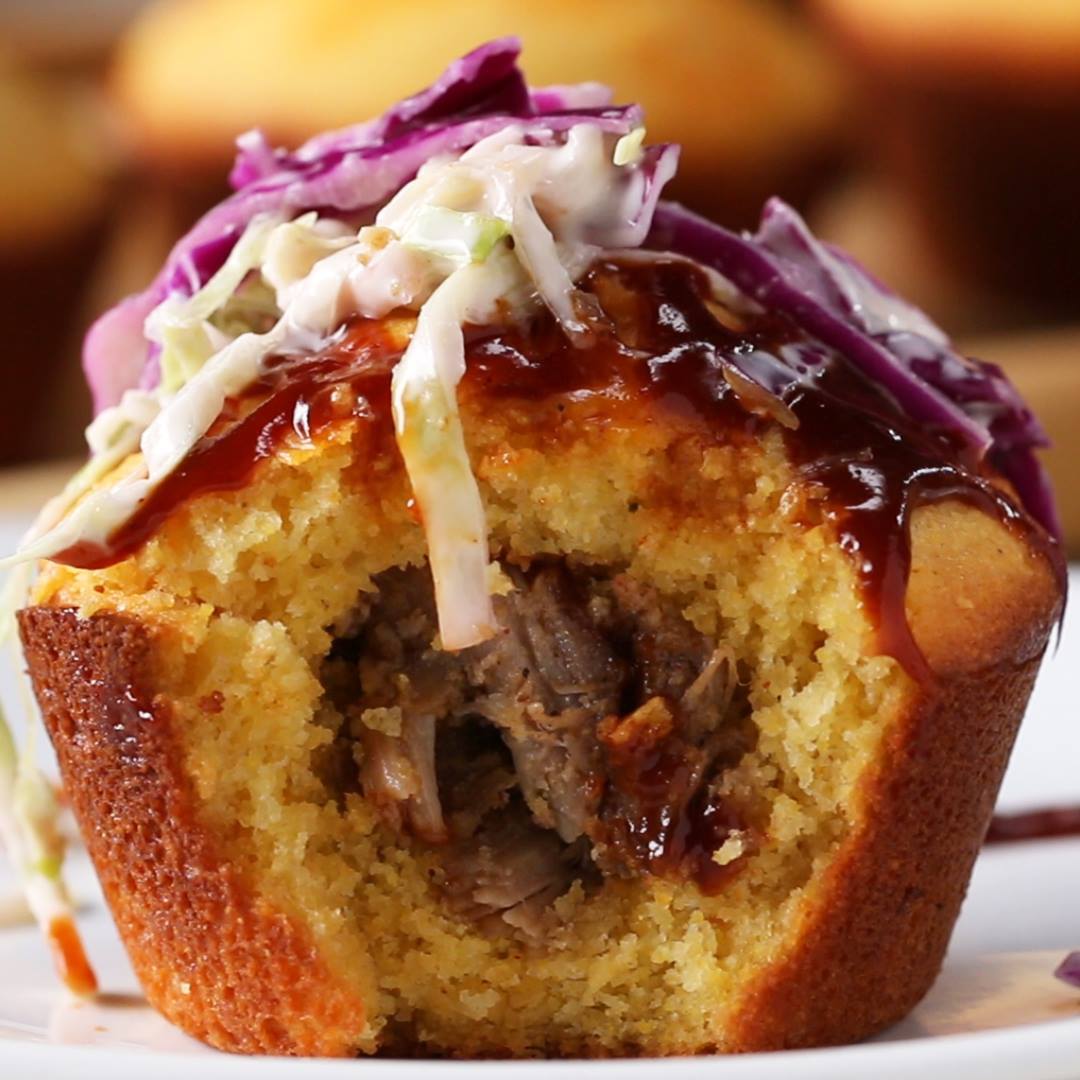 Ingredients
¾ cup (180 mL) milk
½ cup (115 g) unsalted butter, 1 stick, melted
2 tablespoons honey
2 large eggs
1 cup (125 g) all-purpose flour
1 cup (150 g) yellow cornmeal
¼ cup (50 g) sugar
1 tablespoon baking powder
1 teaspoon salt
nonstick cooking spray, for greasing
6 tablespoons pulled pork
6 tablespoons cheddar cheese
barbecue sauce, for serving
coleslaw, for serving
Instructions
Preheat the oven to 350°F (180°C).
In a medium bowl, whisk together the milk, butter, honey, and eggs until combined.
In a separate large bowl, mix the flour, cornmeal, sugar, baking powder, and salt until combined.
Pour the wet ingredients into the dry ingredients and mix until smooth.
Grease a 6-cup muffin tin with nonstick spray. Using an ice cream scoop or measuring cup, spoon about ¼ cup (70 g) of batter into each cup.
Spoon about 1 tablespoon of pulled pork in the center of the batter.
Top the pork with another ¼ cup (70 g) of batter to cover, using a spoon to spread the batter over the pork if necessary.
Sprinkle about 1 tablespoon of cheddar cheese over each muffin.
Bake for 25 minutes, or until the tops of the muffins spring back when touched.
Remove the muffins from the tin and top with barbecue sauce and coleslaw.
Enjoy!
Watch the recipe video here:
Pulled Pork-Stuffed Cornbread Muffins

These pulled pork-stuffed cornbread muffins are the collab of the year! ?FULL RECIPE: https://tasty.co/recipe/pulled-pork-stuffed-cornbread-muffins

Posted by Tasty on Tuesday, July 24, 2018