Jalapeno Popper Chicken Nachos
Jalapeno Popper Chicken Nachos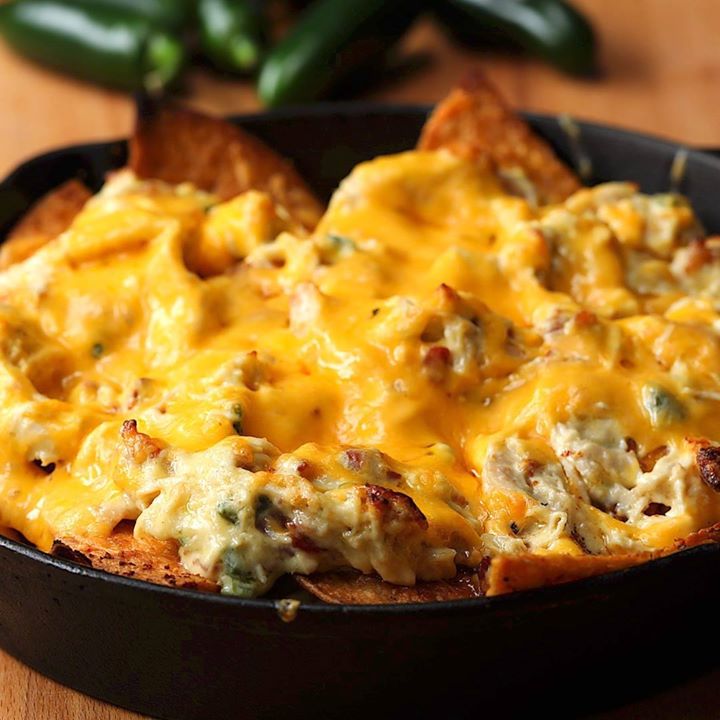 Ingredients
6 small tortillas
1½ cups heavy cream
2 large chicken breasts, shredded
2 jalapenos, diced
2 cloves garlic, crushed
8 rashers bacon, diced
½ cup butter, melted
1 tsp onion powder
½ tsp garlic powder
½ tsp cayenne
1 tsp black pepper
Instructions
Slice each of the tortillas into 6 triangles. Toss the spices in the butter then add the triangles. Coat well, then transfer to a baking sheet (or sheets). Bake at 160°C for 15 minutes. Leave to cool, then transfer half to a cast iron skillet.
While they are cooling, make your chicken mix. Fry the bacon until almost crisp. Add the jalapenos and cook briefly. Add the garlic and cook until fragrant. Pour in the cream then add the chicken and salt. Bring to a simmer and stir well to combine. Set aside.
Load the nachos with the chicken and ½ cup cheddar. Top with the remaining nachos, more chicken and more cheese.
Bake for 10 minutes at 180°C, or until deliciously melted and nice.
Enjoy!
Watch the recipe video here: