Chocolate Butter Cake
A chocolate cake can easily be set as a great example of irresistible decadent food. Here you'll use the bain-marie technique to concoct a buttery dark chocolate mixture. This ensures a tender cake basis … It's up to you how you garnish this cake. You can see what we did, but you can come up with a better idea.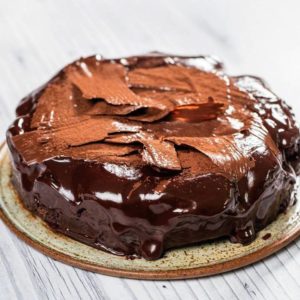 Ingredients
7 ounces of butter
7 ounces of dark chocolate, crumbled
½ cup cocoa powder
½ cup self-raising flour
¼ teaspoon baking soda
½ cup flour
3 eggs
⅔ cup sugar
⅓ cup buttermilk
Instructions
Fill a cooking pot halfway with water and heat it over low heat. Place a heat-proof bowl on top of it and add the butter and chocolate. Cook and continuously stir until melted.
Add the cocoa powder, self-rising flour, baking soda, and plain flour to a bowl. Whisk until even. Set aside.
Add the eggs and sugar to the mixer bowl and start mixing. Gradually add the buttermilk, cocoa-flour mixture, and ½ of the melted chocolate mixture in the process.
Line a roomy bowl with parchment paper and transfer the mixture to it. Bake for 45 minutes at 350⁰F/175⁰C.
Horizontally cut the cake basis in half. Spread some chocolate mixture on the lower half. Add the upper half and glaze it with the remaining mixture. Optionally, garnish with chocolate and cocoa powder.
Watch the recipe video here: