Dutch Apple Pie Cheesecake Bars
Apple season has arrived and to celebrate, I'm sharing these outrageous Dutch Apple Pie Cheesecake Bars! A graham cracker crust spiced with cinnamon, a decadent vanilla bean cheesecake layer, apples tossed in sugar, cinnamon, and nutmeg and finally my favorite streusel topping. Yeah, WOW.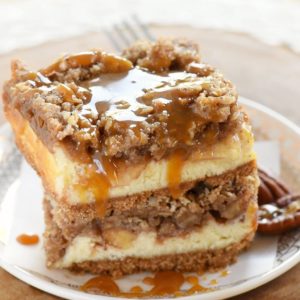 Ingredients
16 oz King Arthur Flour Essential Goodness Vanilla Bean Cheesecake Bar Mix
Graham Cracker Crust
¼ cup butter melted
graham cracker crust mix from box
Cheesecake Layer
16 oz cream cheese softened
cheesecake filling mix from box
2 eggs room temperature
Apple Pie Layer
3 medium or 4 small Granny Smith apples peeled, cored, chopped into small pieces
2 tbsp granulated sugar
½ tsp ground cinnamon
¼ tsp ground nutmeg
Streusel Topping
½ cup all purpose flour
½ cup granulated sugar
½ cup brown sugar
⅓ cup oats
¾ tsp ground cinnamon
¼ tsp ground nutmeg
¼ tsp salt
½ cup pecan halves
6 tbsp cold butter cut into small pieces
caramel sauce optional
Instructions
Preheat oven to 325F.
LIghtly grease a 9-inch square pan. Line with parchment paper(optional).
Graham Cracker Crust
Combine the melted butter and crust mix in a small bowl and stir untill uniform.
Press the crumbs into the bottom of the prepared pan forming an even layer.
Bake for 14 minuutes. Remove from oven when done.
Cheesecake Layer
Beat cream cheese and filling mix until smooth. Add eggs, one a time, mixing until combined. Scrape down mixing bowl as needed.
Pour the cheesecake over the hot crust.
Apple Pie Layer
Toss chopped apples with sugar, cinnamon and nutmeg in a medium size bowl. Make sure apples are thoroughly coated.
Evenly spoon the apples on top of the cheesecake layer.
Streusel Topping
Add all of the streusel ingredients into a food processor and pulse until the largest pieces are the size of a pea or smaller.
Carefully spread the streusel layer over the top of the apples making sure it gets in and around the apple pie layer.
Bake for 30 to 35 minutes or until topping is golden brown and only the center of the pan wiggles when it is gently shaken.'
Let bars cool at room temperature for one hour. Transfer to the refrigerator and chill for at least 3 hours (or overnight) before cutting squares and serving.
Top with caramel sauce if desired.
Watch the recipe video here: