Rainbow Cake
Rainbow Cake in a Mason Jar Is an Easy Way to Bake Up Every Color of the Rainbow!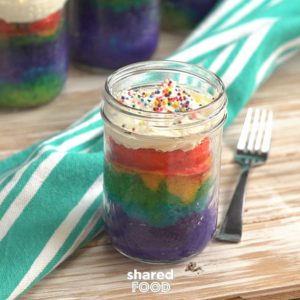 Ingredients
1 box white cake mix, plus ingredients required on the box
Food coloring gel in purple, blue, green, yellow, and red
1 container white frosting
3 wide-mouth glass canning jars (1 pint each)
Instructions
Preheat oven to 350 degrees. Prepare mason jars by first washing and drying thoroughly. Spray the inside of each jar generously with nonstick spray.
Follow box directions to prepare the cake mix. Split the batter up evenly between 5 bowls, then add food coloring to each bowl and stir to blend well to the desired hue.
Scoop about ¼ cup of each color batter into each jar, layering in the following order: purple (on the bottom), blue, green, yellow, red (on the top).
Place the filled mason jars in a glass baking dish, then add ¼-inch of water to the bottom of the dish outside of the jars. Bake 35-40 minutes, or until the cake tops are springy to the touch.
Cool the cakes completely, then frost and decorate as you like! Enjoy!
Watch the recipe video here: