Piggy Mud Bath Cake
A rich, perfectly moist chocolate mud cake is made that much better with Kit Kats and piggies on top!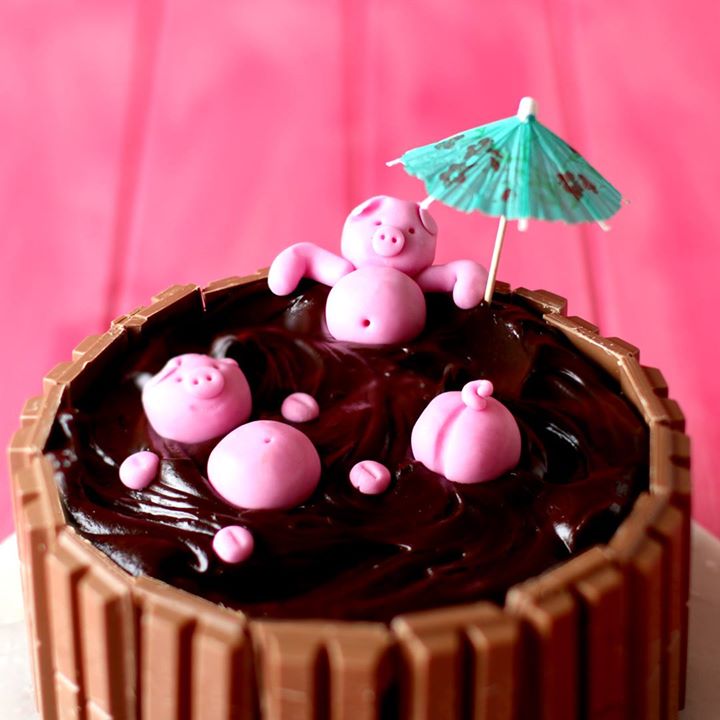 Ingredients
Cake
600g Kit Kats
150g cocoa powder
520g all-purpose flour
1 tsp salt
1 ½ tsp bicarbonate of soda
675g caster sugar
525g unsalted butter, softened
6 large eggs, at room temperature
3 tsp vanilla extract
525ml milk
Simple syrup (see notes)
Chocolate ganache
600g dark cooking chocolate
250g thickened cream
Piggy's
400g pink fondant
skewer to decorate
Instructions
Ganache
To make chocolate ganache add chocolate and cream into a large microwave safe bowl and microwave for 20 seconds at a time, mixing each time until smooth. Allow to chill at room temperature.
Piggy's
To make chilling piggy: roll a ball of fondant about the size of a large grape. Using your index finger and thumb pinch the top to make ears. Roll a little ball of fondant and flatten slightly. Add to face as the nose. Using a skewer poke in the eye holes and add nostrils. To make bellow roll another ball the same size and poke a hole for the belly button. To make chilling hands, roll two small logs of fondant and bend slightly when adding to cake to make him or her (cos girl piggy's be chilling too) look like they're leaning on the back of a spa. To make floating piggy repeat but make little balls of fondant (about the same size as the nose for the floating arms and legs.
Cake
Preheat a fan-forced oven to 160C (320F) or 180C (356F) for a conventional oven. Spray 2 8" cake tin with oil spray and line the bottom with baking paper.
In the bowl of a stand mixer fitted with the paddle attachment, add the flour, bicarb soda, caster sugar and salt. Turn mixer on low speed and allow it to mix for a couple minutes to help everything combine well (alternatively you may do this by sifting the ingredients together). Add the softened butter and mix until it resembles a fine sand like texture.
Add the milk and eggs into the bowl with the dry ingredients and mix on medium speed until no dry ingredients are visible. Scrape down the bowl and mix for another 20 seconds.
Fill two 8" cake tins with batter.
Bake for 30 min or until a toothpick inserted comes out clean. Allow the tins to cool for 2 min and then carefully flip the cake tins over on to a cooling wrack to cool completely before using.
Using a large serrated knife, carefully trim the top off each layer of cake to make even and flat layers. Try to aim to get them all the same height. An easy way to do this is to find the lowest height of the cake, place a skewer or toothpick next to that point and mark it. As you go around each side of the cake cutting it, use the marked skewer to make sure each cut is at the same height. Drizzle both layers with simple syrup (see below)
To frost, add a dab of frosting onto an 8" cake board or serving plate. Add first cake layer. Pipe ganache on top and add the second layer. Add ganache to the side of the cake and use a small off set spatula r table knife to spread ganache on the sides. If the ganache is really hard, microwave for 10 seconds at a time, mixing each time until it reaches spreading consistency. Stick kit kats on the side.
Add ganache on top and add little fondant piggy's into the ganache mud bath.
NOTE: To make simple syrup: add 100g sugar and 100g of water in a medium sized pot. DO NOT STIR! Bring to a boil and allow to cool completely before using.
Watch the recipe video here:
A rich, perfectly moist chocolate mud cake… we literally want to swim in it.Full Recipe: taste.md/2xtxEXe

Posted by Tastemade on Friday, February 16, 2018