Pancake Kebabs
Adorable mini pancakes taste better skewered with fresh fruit and drizzled with maple syrup and chocolate.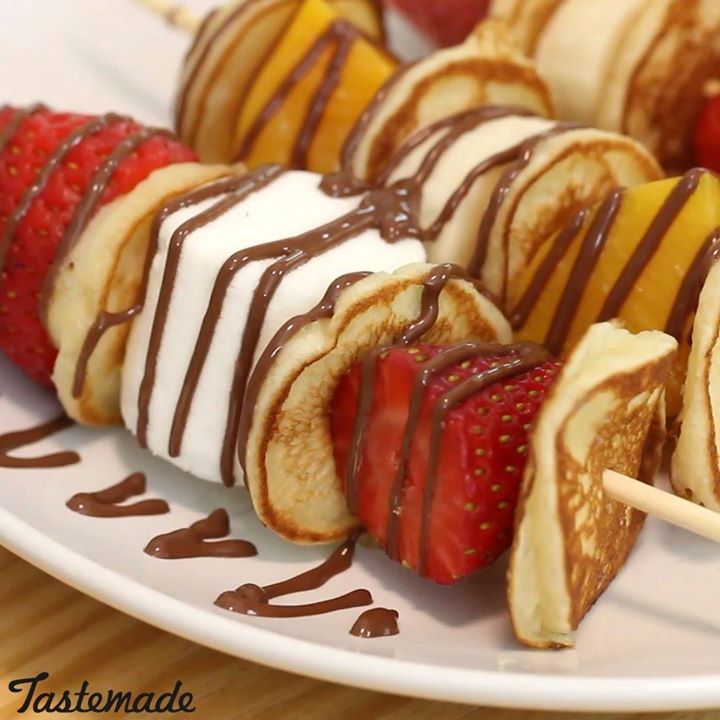 Ingredients
1 cup all-purpose flour
2 tbsp sugar
2 tsp baking powder
¼ tsp salt
1 cup milk
2 tbsp unsalted butter, melted
1 large egg
cooking spray, for frying pan
Your desired toppings (we used fresh fruit, canned peaches and marshmallows)
maple syrup
chocolate sauce
skewers
Instructions
Make the pancake batter:
Combine the flour, sugar, baking powder and salt in a bowl. In a larger bowl, combine the milk, butter and egg and whisk until fully combined. Add the dry ingredients and whisk together, but make sure not to overmix. Some lumps are fine!
Heat a frying pan over medium heat and spray with cooking spray. Place small dollops of batter onto the frying pan. Cook until the surface of the pancakes develop some bubbles, about 1 minute. Flip and cook for an additional minute, then transfer to a plate.
Skewer the pancakes onto skewers, adding some fruit between each pancake.
Drizzle with maple syrup or chocolate sauce and enjoy!
Watch the recipe video here:
Adorable mini pancakes taste better skewered with fresh fruit and drizzled with maple syrup and chocolate.Full Recipe: taste.md/2DRS2BW

Posted by Tastemade on Wednesday, February 14, 2018