Cherry-Cream Cheese Crumb Cake Bombs
You've never had crumb cake like this before! These bite-sized breakfast bombs start by stuffing Pillsbury™ refrigerated cinnamon rolls with cherry preserves and cream cheese, then topping them with a homemade crumb topping for a morning treat that rivals any bakery.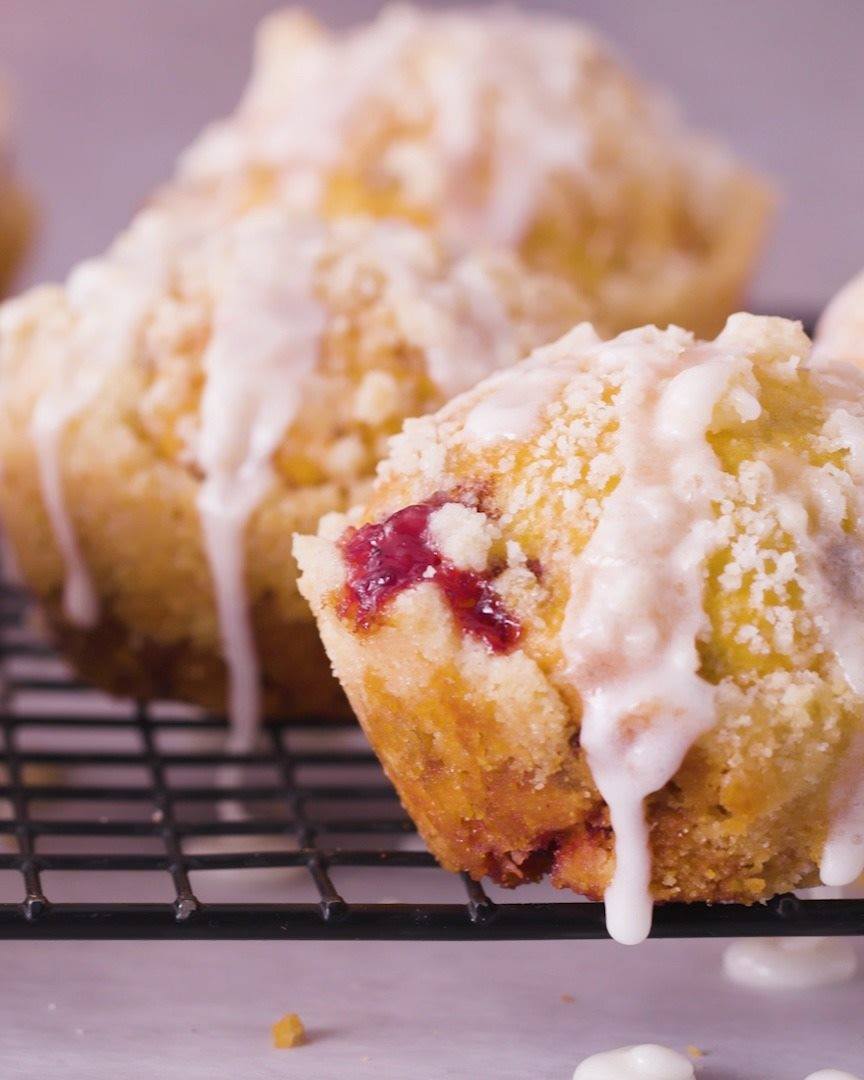 Ingredients
2 oz (from 8-oz package) cream cheese, softened
2 tablespoons powdered sugar
2 tablespoons butter, melted
5 tablespoons all-purpose flour
¼ cup granulated sugar
1 can (12.4 oz) Pillsbury™ refrigerated cinnamon rolls with icing (8 rolls)
3 tablespoons cherry preserves or jam
1 egg
1 teaspoon water
Instructions
Heat oven to 375°F. Spray 8 regular-size muffin cups with cooking spray.
In small bowl, stir cream cheese and powdered sugar until smooth. Set aside. In another small bowl, using fork or pastry blender, mix melted butter, 4 tablespoons of the flour and the granulated sugar until mixture looks like coarse crumbs. Set aside.
Separate dough into 8 rolls. Place remaining 1 tablespoon flour off to the side, on work surface. Dip cinnamon-coated side of each roll into flour; shake off excess. With cinnamon side up, press each roll into 3½-inch round. Spoon 1 teaspoon of the preserves in center of each roll; top with 1 rounded teaspoon of the cream cheese mixture. Bring edges of each roll up over filling; pinch edges tightly to seal. Place rolls, pinched side down, in muffin cups.
In small bowl, beat egg and water with fork. Brush egg mixture over top of each roll. Sprinkle 1 rounded tablespoon of the crumb topping on each roll; slightly press into dough.
Bake 16 to 18 minutes or until golden brown. Cool in pan 5 minutes. Remove cake bombs from pan; place on cooling rack.
Place icing from can into 1-quart resealable food-storage plastic bag; cut small hole in bottom corner of bag. Squeeze bag to drizzle icing over cake bombs. Let stand 5 minutes. Serve warm.
Watch the recipe video here: