Potato Roses
Potato Roses recipe.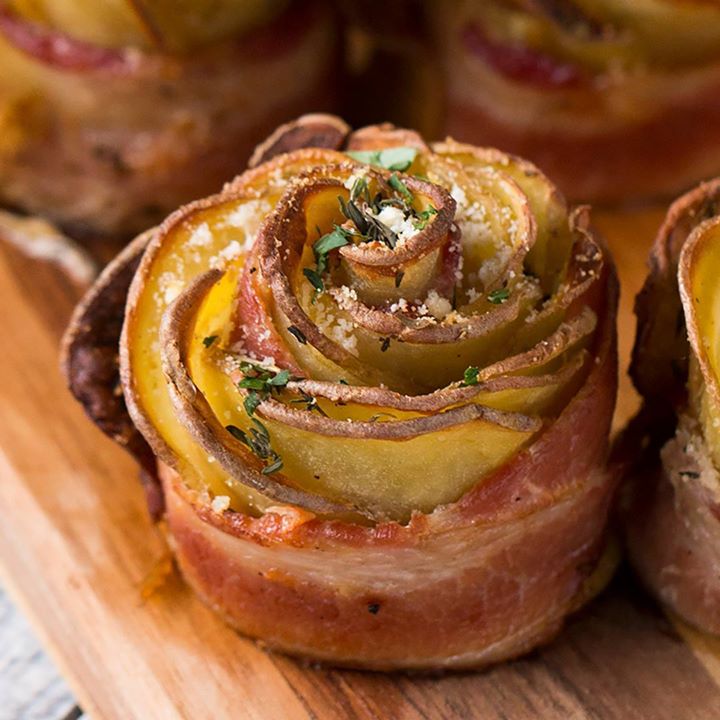 Ingredients
4 yukon gold potatoes, halved
2 tablespoons olive oil
1 teaspoon garlic powder
1 teaspoon dried thyme
1 teaspoon dried rosemary
½ teaspoon black pepper
1 teaspoon salt
12 strips center cut bacon
fresh thyme, to serve
grated parmesan cheese, to serve
Instructions
Preheat oven to 400˚F (200˚C).
Using a mandolin and a hand guard, thinly slice the potatoes into a large mixing bowl.
Add olive oil, garlic powder, thyme, rosemary, pepper, and salt to the sliced potatoes and toss with tongs until evenly coated.
On a cutting board, lay out two pieces of bacon overlapping each other vertically.
Line the bacon with the sliced potatoes, making sure each potato is overlapping.
Starting at one end, gently roll up the bacon, creating a potato rose.
Place the rolled potato roses in a greased muffin tin. Repeat with the remaining bacon strips and potatoes.
Bake for 20 minutes. Cover the roses with tin foil, and bake for an additional 30 minutes.
Top the roses with thyme and Parmesan. Bake for an addition 5-10 minutes uncovered.
Enjoy!
Watch the recipe video here:
Raise your hand if you need a bouquet of these ?? ? ✨!FULL RECIPE: https://tasty.co/recipe/potato-rosesShop our FAVORITE cookware set here: http://bit.ly/2DUjwL0 – We may make some $$ if you buy!

Posted by Tasty on Thursday, February 1, 2018